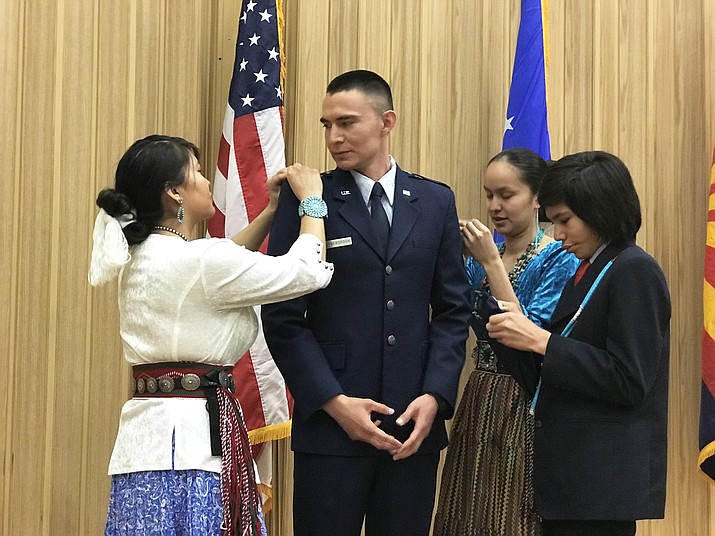 Originally Published: May 1, 2018 6:01 a.m.
MAXWELL AIR FORCE BASE, Ala. — One of the Air Force's newest members to its officer corps is continuing the Navajo Nation's proud heritage of military service.
Arizona native and Navajo Nation member Jonathan Witherspoon was commissioned as a second lieutenant from Air Force ROTC Detachment 027 at Northern Arizona University, March 30.
"Second Lt. Witherspoon is the first member of his family to be a commissioned officer in the U.S. military," said Lt. Col. William Pruitt, detachment commander. "He is one of a few members of the Navajo Nation to receive a commission in the U.S. military and even fewer into the U.S. Air Force."
According to Department of Defense statistics, only slightly more than 15,000 active duty members, or about 1.2 percent of the force, identify as American Indian or Alaska Native. Of that number, about 5,000 are from U.S. or Canadian Indian tribes.
"I am honored to be able to set an example for the Navajo Nation," Witherspoon said. "I believe that in this day and age there are few Navajo role models to look up to. It may seem intimating, especially for the youth, to try and break new ground in education while maintaining their culture. However, I feel this will be a good stepping stone for future generations to build off of to join the world's greatest Air Force."
Witherspoon completed his degree in mechanical engineering, and his first duty station will be Hanscom AFB, Massachusetts, where he will serve as a developmental engineer.
"He has been an inspiration to those cadets that he served with at NAU," Pruitt said. "Even though his path to a commission had some unique challenges, his dedication, fortitude and perseverance through difficult trials permeated throughout the cadet wing."
Witherspoon blazed a trail for his family and the members of the Navajo Nation, Pruitt said.
"He personlly demonstrated to them that you could achieve your goals through hard work, dedication and seizing opportunities," Pruitt said. "For Witherspoon, it was a commission into the world's greatest Air Force and his still achievable dream of becoming an Air Force pilot."