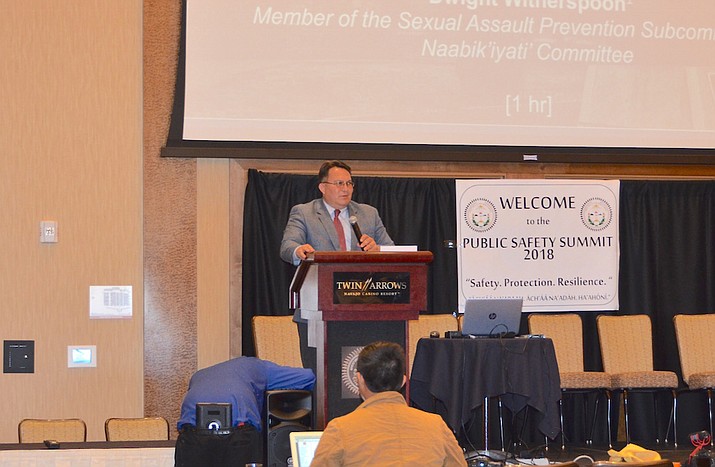 Originally Published: February 13, 2018 9:29 a.m.
LEUPP, Ariz. — The 2018 Public Safety Summit centered on themes of "Safety, Protection, and Resilience" this year and highlighted communication, capacity building, consistency and uniformity, and community engagement.
On the first day of the summit, Council Delegate Dwight Witherspoon (Black Mesa, Forest Lake, Hardrock, Pinon, Whippoorwill) stated that each member of the Navajo Nation has responsibilities to nourish healthy communities and deter disharmony.
"There are three lessons that could be learned to promote public safety and healthy communities. First, every citizen should know his or her true identity through spirituality and determination. Second, every parent should be a 'good' parent by teaching their children values, culture, morals, and faith. Lastly, the teaching of 'hard work' needs to be recognized and practiced," he said.
Witherspoon is a member of the Naabik'íyáti' Committee's Sexual Assault sub-committee.
The first day of the summit highlighted the Navajo traditional story of the Diné Monster Slayers and examined the prevalence of modern day Navajo monsters in the form of violence, substance abuse and suicide.
During his opening remarks on the second day of the summit, Council Delegate Jonathan Hale (Oak Springs, St. Michaels) commended the Navajo Nation Judicial Branch for creating the Diné Action Plan, which integrates the Navajo traditional cultural methods, Nistáhákéés, Nahat'áh, Iiná, and Siihasin, to create, implement, measure and improve holistic programs to address suicide, violence and substance addiction.
"The Diné Action Plan is history in the making to address the modern day monsters within the Navajo Nation. It will give a clear direction to intervene and prevent misconduct. It utilizes the Navajo traditional healing methods to overcome suicide, violence and substance abuse," said Hale, who chairs the Health, Education and Human Services Committee.
According to the Navajo Nation Judicial Branch, the Diné Action Plan is a comprehensive plan that addresses three components including violence, substance use disorder and suicide and serves as a foundation for funding requests and establishing community initiatives to address the components.
Law and Order Committee chair Council Delegate Edmund Yazzie (Churchrock, Iyanbito, Mariano Lake, Pinedale, Smith Lake, Thoreau) commended the Navajo Nation Division of Public Safety, Navajo Nation Department of Justice, Office of the Attorney General, Navajo Nation Department of Behavioral Health Services and Navajo Nation Division of Social Services for organizing the summit for public safety partners, community leaders and community members.
"The summit allowed the people to come together to strengthen the Nation's public safety. Many achievements have been made with the collaboration with LOC and NNDPS. However, there are many goals to accomplish to protect the health, safety and well-being of the Navajo people," he said.