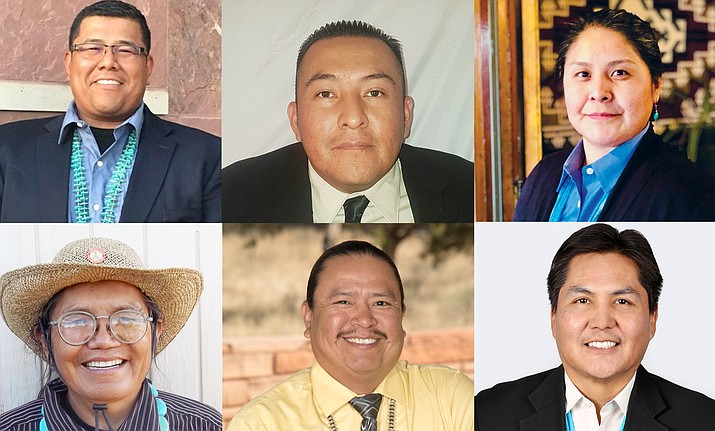 Originally Published: August 14, 2018 10:53 a.m.
The Navajo-Hopi Observer asked all 18 presidential candidates why they wanted to be Navajo Nation president. Of the 18, five presidential candidates responded. Their responses are listed below in alphabetical order by last name.
Dineh Benally, Shiprock, New Mexico
Our Great Navajo Nation is in an unprecedented situation: Joblessness, dire healthcare circumstances, stagnant economy, Navajo business uncertainties, housing shortages, broken education systems, veteran mistreatment, failure of leadership…the list is long. As a son of a Vietnam veteran, a grandson of a World War II veteran, a former BIA agent, and a civil engineer, I have traveled between states and abroad in search of solutions. I owe it to my people and our ancestors to sacrifice myself to translate my vision and my overhaul plan for our Navajo Nation's future into action. I am the advocate and the humble servant for our causes. I am committed to the challenges we face today with a plan that will solve them all tomorrow. From day one, areas of agribusiness, education, healthcare, and housing, will see positive changes. Our people will stand proud to finally see our sovereign Nation thrive.
Kevin Cody, Pinon, Arizona
Ya'áh teeh. One critical problem is fixing the current corrupted Navajo Nation government. Money is the root of all evil and before thinking of economic development, we must remove dishonest officials, which would prevent economic profit. We need more accountability and honest incumbents who will protect future assets for future generations. Our educational institutions must forge to national standards and dual enrollment is crucial for our youth. The advancements in learning technology makes it possible. We need major improvement with current infrastructure in electric, water, internet, transportation, government buildings and roads. Building community homes for veterans, disabled and elders is critical. We can't allow future access of drilling, we must convert to clean energy. Healthcare, public safety, social service, and natural resource programs need be reformed. Tribal government and entity hourly wages/salaries need to be raised. Our government needs to be proactive and not reactive in the future with laws revised or amended.
Emily Ellison, Chichiltah, New Mexico
Restoring confidence and trust among voters in their elected leaders is the reason I want to be president. Taking responsibility for all decisions, personal and in the exercise of government—there is no part time president. As trust is restored, equally important is to end our temporary government with a permanent one that reflects our values and beliefs. I want to model leadership in working with the elected council, not to stage public dissent and unnecessary quarrel because it gives the impression of strength. Leadership is about taking a lesser place sometimes to let other great ideas go forward. Holding the interest of the people first is the sacred act in the oath of office. I will work daily to continue with the forward progress of the Nation Nation and all of its people. I have earned an education and made career decisions to lead this Nation. Now is the time.
Calvin Lee Jr., Greasewood Springs, Arizona
Ya'at'ééh shik éi doo shi Diné'e! I want to be president of the Navajo Nation so our people can thrive and walk in the beauty way. I obtained a Bachelor's degree in Computer Science and a law degree specializing in federal Indian law after working towards my Master's in public health. Today, I help Navajos with consumer and family law and other legal needs. I will protect veterans and the elderly by bringing hospitals and nursing homes to our Nation. I will improve our children's test scores and create more institutions of academic excellence. I will create a productive economy by helping entrepreneurs and by attracting manufacturing jobs. We need integrity and accountability in our government, as the recent hidden deal to purchase Remington made clear. I will work to bring our young people home to a Nation where they can thrive and contribute to our legacy, heritage and future.
Alton Joe Shepherd, Ganado, Arizona
The state of the Navajo Nation is the driving force behind my run for president. The primary role of the President should be to advocate on behalf of the people. We see the struggles of our families, friends and communities to do more with less; fighting for health care, hoping for improved public safety and needing a better educational system, while managing family. We will work hard to rebuild trust between our government and its people. We want to create a strong Navajo economy with an innovative economic plan. We will work diligently to create opportunities so our educated and skilled workforce can come home to Navajo land, make a good living and reinvest in our economy. As your president, I will ensure government accountability and focus on our economy, infrastructure, homeland security and social stability. The pathway going forward is one of purpose, planning, partnership and progress.

Vincent H. Yazzie, Tolani Lake, Arizona
Time to serve the Navajo people is now as I am highly educated with a BS degree in physics. I am honest, hardworking, read write scientific/technical papers including environmental impact statements. I was one of the no cost consultants to write the grant application for the new Kaibeto School. I have helped trouble shoot a glitchy tax computer for the Office of the Navajo Tax Commission, which issues huge tax statements to the big mining companies. I owned and operated Keyah Hozhoni Tours in hibernation. I have helped with my late fathers law office of John H Yazzie. Confirmed water rights for the Navajo Nation is important as water settlement are Acts of Contrition (Remission of Sin) for stolen water in 1957. The United States government must pay a high price for a clean conscience. Business lease process will be accelerated extra staff. Not a professional politician. No Escalade. Website: www.voteyazzie4prez.com.