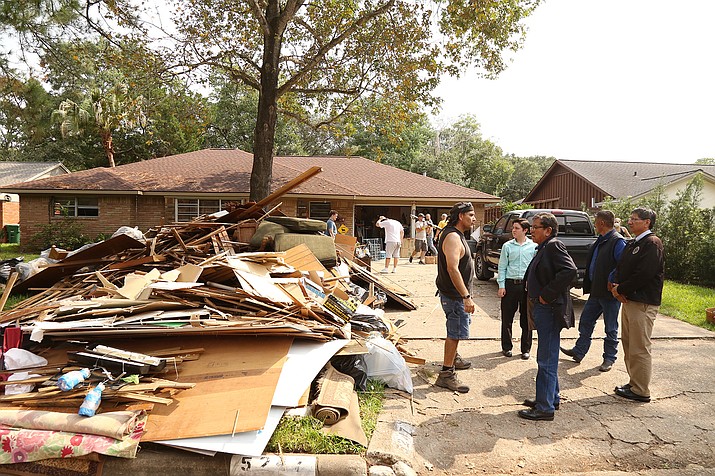 Originally Published: September 12, 2017 10:51 a.m.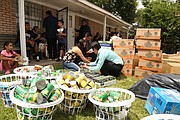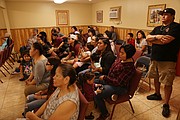 HOUSTON — On Sept. 3, Navajo Nation President Russell Begaye and Vice President Jonathan Nez extended efforts to support Navajo families affected by Hurricane Harvey as they visited the Houston area distributing water and donated supplies.
"The Navajo Nation held Houston in prayer as we watched the hurricane flood waters rise and cause devastation to the area," Begaye said. "We started getting phone calls from concerned tribal members who had family in the area and we knew that joining the relief effort was a way in which we could help."
The Office of the President and Vice President (OPVP) hosted a donation drive Sept. 1-2, calling for basic toiletry and hygiene items, non-perishable groceries, canned goods, school supplies and new clothing for children.
According to the OPVP, the outpouring of donations was incredible and exemplified the concern and generosity that the Navajo people have in assisting the flood victims.
Begaye, Nez and OPVP staff traveled to Houston Sept. 3 to deliver the donations.
"Many of you gave donations to our people who were affected by the hurricane. We appreciate you," Nez said. "You really stepped up and we were able to deliver your donations. The families were very thankful and many shed tears knowing they had support from home."
OPVP coordinated outreach efforts with the First Indian Baptist Church in Houston, and established contact through the late Pastor Willie Thompson's wife, Laura. Through these outreach efforts, OPVP was able to assist approximately 28 Houston-area Navajo families and three Corpus Christi-area Navajo families who were impacted.
Wauneka Becenti-Andrade considers both Window Rock and Greasewood as home but currently lives in southeast Houston. Andrade said that despite receiving concerned calls from home, she told her family not to worry as she's weathered past hurricanes without harm.
"On Saturday night it started raining. Our neighbor called us and said we better move our truck because the street was getting flooded," she said.
When Andrade's husband went to move the truck, he found himself knee-deep in floodwaters. It was then the family became concerned with the rising water levels.
"This happened at about midnight and we knew we would have to stay up and monitor the water levels. The rain wasn't letting up. It kept pouring and pouring," she said. "Just across the freeway from us, people were being rescued by boat and helicopter. We were fortunate to have been spared from more extensive damages."
Charmayn Skeets, originally from Oaksprings, was at her home in Baytown, Texas, on the outskirts of Houston when Hurricane Harvey hit.  She was told the flooding wouldn't affect Baytown, but the strength of the hurricane proved this wrong.
At about 3 a.m. Aug. 27, a neighbor knocked on her door telling her that her vehicle was being flooded.
"We didn't think it would be as bad because we weren't told to evacuate but our whole vehicle was almost submerged on the street," she said. "We have two vehicles and we were able to move one to higher ground but the other was completely flooded."
Skeets said that people don't understand how difficult evacuation can be with only two interstates being utilized as evacuation routes.
"When there are so many people leaving, it's just impossible," she said.
Beyond evacuation, she said grocery stores had run out of food and water while gas stations were depleted of fuel.
"When you're a mother, you worry about your children and their safety. You don't want to show panic," she said. "Now we're trying to get back on our feet and it's hard."
The devastation hit all areas of Houston and didn't discriminate based on race or class said Michael Blackman, who is originally from Window Rock.
Although his house was subjected to three-foot flood levels, completely damaging all flooring and drywall, Blackman feels fortunate to have only suffered material loss.
"You guys wouldn't believe the impacts this flood has had. It's unbelievable," he said. "My neighborhood looks like a war zone. There is garbage everywhere. Some people lost it all."
Bertha Begay, from Dilkon, said she was fortunate to have endured the storm with minimal damages to her home. Begay said that in the three hurricanes she's experienced in Texas, this was the first time that a Navajo president and vice president had come to check on the Navajos living in the area.
Begaye told her that tribal members from the Navajo Nation have been asking him to come check on the Navajo families in Houston and to see what their needs are.
After the church service at the First Indian Baptist Church, the assembled group of Navajo families and gathered church membership came together for a potluck dinner complete with southern delicacies of collard greens, chicken and dumplings, biscuits, gravy and all the fixings.
Over plates of food, everyone recounted their stories of the flooding and shared how grateful they were to be alive and able to assist one another.  Extended kinship and philanthropy proved to have weathered the storm and have held the city of Houston together.
With the help of everyone involved, Begaye and Nez were able to distribute every single donation to families in need. Both leaders rolled up their sleeves and loaded cases of water and baskets of canned goods into the vehicles of the Navajo families in attendance.
"Over 150,000 homes have been destroyed throughout Houston and the surrounding area. Flood waters have taken lives and destroyed property," Begaye said. "It takes all of us coming together to help one another to reinforce our faith that everything will be okay. Everyone on the Navajo Nation is very concerned. We're here today to show our support but also the support of the Navajo people."
Nez said the Navajo Nation is praying for the safety of everyone who has been impacted by Hurricane Harvey and the flood.
"Let's continue to pray for the people of Houston, not just the Navajos but everybody in this region," he said. "Being a part of this effort has been great in showing the love the Navajo Nation has for those in need. Let's continue to help those in Houston."