Originally Published: March 7, 2017 10:50 a.m.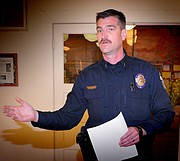 WINSLOW, Ariz. — The Winslow Police Department hosted Good Morning Winslow March 1.
Good Morning Winslow is a monthly coffee gathering for locals. The main speaker was interim Police Director Chris Vasquez, who explained ongoing areas of improvement the Winslow Police Department has implemented, including reducing crime with citizen partnerships, publishing crime statistics that adhere more closely to the FBI's categories, teaching residents how to deter burglars and increasing the department's communication with the Winslow community.
Lt. Ken Arend spoke about placing more emphasis on community policing, the ongoing monthly 'Coffee with a Cop' meetings, stressing the importance of school police officers and instituting a bike patrol to get officers closer to their physical surroundings.
Sgt. acting Lt. Quentin Hays was on hand, too. He oversees the detective's work load and priorities and works to reduce street crime.