Originally Published: June 27, 2017 2:06 p.m.
TUBA CITY, Ariz. — On June 22, Allen Lynch, Jr., 54, barricaded himself in his residence after a domestic disturbance involving a discharge of a firearm and threats to a family member.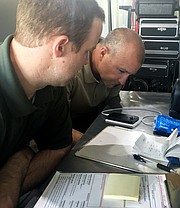 Coconino County Sheriff's Office responded around 8:30 a.m. after receiving information from the Navajo Police Department in Tuba City of an armed subject barricaded in at the Pasture Canyon Apartments belonging to the Tuba City Regional Health Care Corporation.
Navajo Police requested the sheriff's office respond because the incident involved non-native individuals, making it the jurisdiction of the sheriff's office. During the incident, the Sheriff's Office was assisted by the Navajo Police Department, Arizona Department of Public Safety, Flagstaff Police/Coconino Sheriff Tactical Team, Guardian Air based out of Tuba City and Security Personnel from Tuba City Regional Health Care.
Because of the involvement of a firearm in a residential neighborhood, a number of residents were evacuated.

After approximately seven and a half hours of negotiations with the subject, a robot from the Flagstaff Police Department was used to enter the residence where Lynch was located. A Tactical Team was then able to secure the residence and take Lynch into custody.

Lynch was transported to Tuba City Regional Health Care for medical evaluation and later booked into the Coconino County Detention Facility in Flagstaff under charges including aggravated assault with a deadly weapon, disorderly conduct with a firearm, and criminal damage.