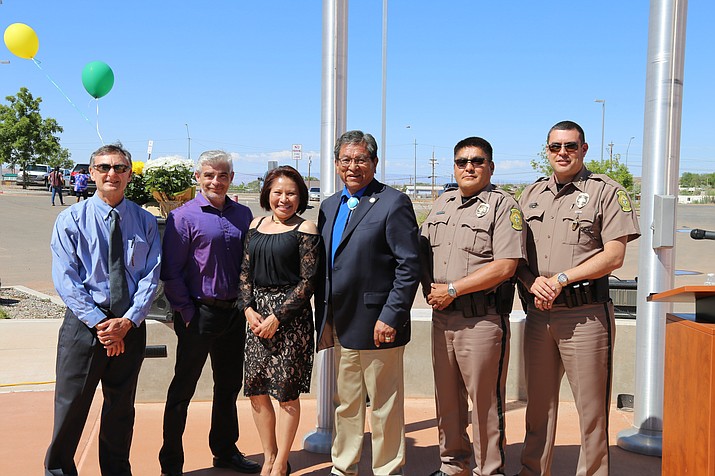 Originally Published: June 20, 2017 9:22 a.m.
TUBA CITY, Ariz. — In May, Navajo Nation President Russell Begaye commended the Navajo Nation Division of Public Safety on their successful implementation of the E911 Initiative Celebration for the Tuba City Region.
"Congratulations to the Division of Public Safety. By completing this initiative and overcoming all barriers through your diligence and perseverance, you have made this project a reality after a six-year project stalemate," Begaye said.
This upgraded 911 system took two years to complete for Tuba City. The system will improve the Navajo Nation's ability to effectively respond to emergency situations, enhancing the Nation's emergency response capabilities to save lives, protect property and the environment, and meet basic human needs after an incident has occurred.
"This system ensures our commitment of safety to our Navajo citizens," said Police Chief Phillip Francisco.
Previously, information gathered regarding callers requiring emergency services was insufficient and incident response times were lengthy. With this system's ability to route calls directly to the Nation and identify the 911 caller, a significant reduction in the time necessary to provide emergency services is possible.
"I am thankful for the support for this project for the past two years," said Michele Tom, Navajo Nation Division of Public Safety 911 project manager. "This project could not have been possible without the help of our TechSource consultants and the Navajo Tribal Utility Authority."
"This system was talked about for a number of years, this is a huge step forward for the Navajo Nation," Francisco said. "I want to thank everyone that was involved in completing this project for their efforts."
The Navajo Nation Division of Public Safety was awarded a U.S. Department of Homeland Security grant to purchase the hardware and software for stand-up of the primary Tuba City 911 Public Safety Answering Point.
The Navajo Nation Division of Public Safety will be working to upgrade the 911 system in each of the other five regions in the Navajo Nation. The Crownpoint region will be the next project.
"We congratulate the Navajo Nation Division of Public Safety on this historic event. We appreciate the work of the project team to streamline and update the system of the Navajo Nation," Begaye said