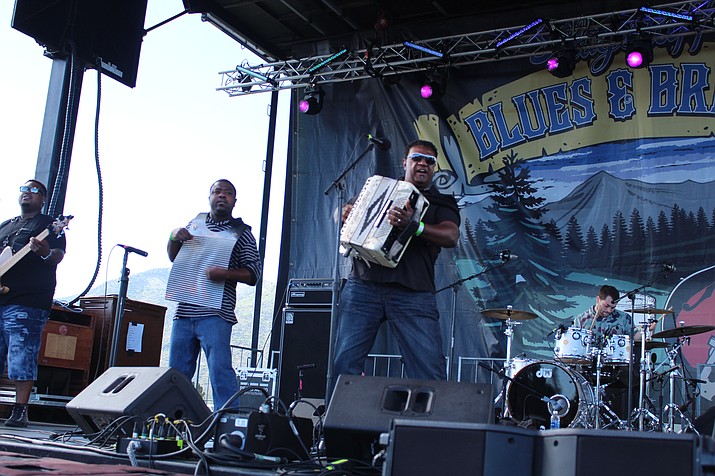 Originally Published: June 20, 2017 6:01 a.m.
FLAGSTAFF, Ariz. — After performing at the Flagstaff Blues and Brews Festival June 10, guitarist Mike Howard was recognized for being in the Arizona Blues Hall of Fame.
"It was touching. It was cool because it was the first time anything like this has happened to me," he said. "It was nice to have some outreach. I could feel the love."
The lineup for the Flagstaff Blues and Brews Festival included Soul Summit, Mother Road Tree, Sistahs Too, Harlis Sweetwater, Kornell John, Chubby Carrier and the Bayou Swamp Band, Chris Kane, Victor Wainwright and Wild Roots, Joe Kopicki and the Northern Mississippi All-Stars.
Howard is a regular performer in the Phoenix area, but said he enjoyed the small Northern Arizona town.
Howard, who is 47, began playing when he was 12. During the past year, he performed at the International Blues Challenge in Memphis and a bunch of gigs in the Phoenix area.
"I played with a bunch of Phoenix area bands," he said.
During the past 20 years, Howard has become known in Phoenix as he has performed with Rhythm Method with Dave Andrews, Cold Schott and the Hurricane Horns, Chico Chism's Chicago Blues Band, Jimmy Peyton Midnight Blues and the Jump Back Brothers. He has also performed with Big Pete Pearson, Sistahs Too and Hans Olson.
Howard's style of electric blues is influenced by T-Bone Walker, BB King, Albert Collins and Freddy King.
"I like telecasters so I was influenced by Kid Ramos," he said.
Howard likes simplicity in music.
"It's just the way I approach my music," he said. "I relate to the guitar so much. Everybody has a voice, a tone. I work by singing through my guitar. I hope that I have a style that can be detected where somebody hears my first two notes and they know it's me."
His advice to young musicians is to be a good collaborator and able to work well with others.
"Even if you're a solo performer you still want to be able to work with others," he said. "You need to build a network."
Sistahs Too plays high octane blues
Lila Sherman loves performing at festivals because she likes talking with people and taking photos or signing autographs with them when they request it.
"I feel so blessed to do something I love. How many get to do this? It's not about the pay. It's knowing that you're touching people. I am thankful to God," she said. "I couldn't do this without my faith."
Sherman said performing at the Flagstaff Blues and Brews Festival was awesome because the concert was well organized, everyone was kind and the sound was amazing. She said not all festivals have good sound systems.
"Who wouldn't love Flagstaff, and the crowd was energetic," she said. "This is a natural high because we're all here for the love of music."
Sherman is part of "Sistahs Too." She sings high octane blues while Rochelle Raya performs on the harmonica. While the name might lead readers to believe this is a two piece band it's much more than that with James Robertson on guitar, Mike Howard on rhythm and lead guitar, Rocky Heyer on bass and Ricky Lockhart on drums.
Sistahs Too won the 2016 Phoenix Blues Society Showdown and then won semifinalists at the International Blues Challenge in Memphis this past year.
"Memphis was great," Sherman said. "We were challenging ourselves to be better. The food was outstanding. The hospitality was ridiculously good. The locals were friendly."
Sherman hopes to perform at more festivals in the next year because she likes the mixture of younger and older people who come out for the festivals.
Sherman said one of her favorite stories was meeting bluesman Luther Allison. She once opened for John Lee Hooker and she met the late great Koko Taylor. Her influences included Etta James.
"I grew up singing in church. I'm not from a musical family, but my parents loved music and they listened to everything," she said.
Sherman said Sistahs Too stands out from other bands because of their originality.
"We also have the ability to play a cover song and make it our own," she said.
Sherman once played with blueswoman E.C. Scott out of the Bay area and asked her if they could play some of her songs. Scott agreed so they play some of her songs.
"Our songs are different, but we want to be true to the blues," she said.
Her advice to young musicians is to listen to all types of music and don't get stuck on one genre.
"Don't give up, Keep doing it and keep yourself open," she said.
Sistahs Too plays original compositions and classics and has performed since 2013.
Sherman started singing in choirs and churches when she was eight years old. Today she sings the national anthem for the professional teams in Phoenix.
Raya was inspired at a James Brown concert when she was eight years old and started teaching herself harmonica when she was 13. She started playing professionally in Phoenix in 1990 with the Just Cuz band.
Sweetwater's band rocks the crowd
Harlis Sweetwater's Band from Southern California was one of the blues bands that rocked during the Flagstaff Blues and Brews Festival. This was the second go round as Sweetwater's band performed at this festival two years ago.
"I'm glad to be back so I can bring you the blues and live music," he told the crowd.
Sweetwater's guitar, along with a cool horn section, had the crowd up and dancing.
Sweetwater had the crowd chanting after him: "Oh Yeah," "I Feel Good,"  "I Feel Alright."
Sweetwater dedicated his set to the late great Gregg Allman.
Sweetwater's band has been touring the states for the past year and recently put out their new CD, "Roller, Stomp, Growl."
"We're just doing an expansion of what we've done. We have a few more ballads on the CD. We have some great harmony and vocals," he said.
Sweetwater said they plan to keep touring and they want to add more tunes to their repertoire. They also plan to add more acoustic songs.
He credits his mother Nancy Sweetwater with influencing him because she plays the guitar and sings.
Sweetwater, a contributor to the Hopi High School media program, donates to several causes. He said he hopes to get the friends of the band, meaning the followers, to write Christmas cards to seniors so nobody goes without.
His advice to young musicians is to put everything into your music.
"You're either in or you're out," he said.
He said it's also important for musicians to connect with people.
Three members of the band have been together for 20 years, but the present band has been together about five years. The horn section includes Jed Thurkette on trombone, Effrem "Kenny" Shaw on trumpet and young outstanding talent Filiberto Quintero on sax. Peabody Crease supplies the bass and Eric Hartwell is the drummer.
"Chuck Berry was the one who got me going on guitar," Sweetwater said about hearing a Berry record when he was 7-years-old and immediately took up the instrument. He's self-taught and was in his first band when he was 11.
"It was me and my buddies," he recalled.
Muddy Waters and Howlin Wolf inspired him to play the blues, but he also likes Freddie King and Robert Johnson. When it comes to vocals, Otis Redding is his man. He also appreciates other genres of music as he's a big fan of Kiss.
Like many musicians, when Sweetwater plays the guitar he closes his eyes because he feels the music.
Sweetwater said the best part of being involved with the blues is being able to meet and share the stage with James Cotton, Etta James and Wilson Pickett.
More information is available at: www.harlissweetwater.com.
Chubby performs in Flagstaff as part of world tour
Some consider Zydeco the brother of the Blues and the Flagstaff Blues and Brews Festival has a zydeco performer each year.
This year Chubby Carrier and the Bayou Swamp Band brought their high energy swampy funk zydeco to get the crowd dancing.
Carrier's band has been touring the world, including the states, for more than 25 years. They have 10 CDs out. His band's CD, "Zydeco Junky" was named the Best Zydeco Album during the 53rd annual Grammy Awards in 2011.
Aside from his singing, Carrier plays the drums and accordion. When he was 17, he toured the world playing with Terrence Simien's band for more than two years before starting his own band.
For Carrier, it's just a matter of carrying on the tradition because his father Roy, grandpa Warren and cousins Bebe and Calvin are all considered zydeco legends in Louisiana.
While those family members had an influence on him, Carrier was also taken by Clifton Chenier, who was known as the king of zydeco from 1955 until his death in 1989.
One of Carrier's favorite memories is when he pulled up along with his manager to a festival in Sioux City, Iowa, and saw Santana on stage. He asked his manager who was on next.
"You are," his manager said.
It turned out Santana didn't like closing at festivals so Carrier was on next.
"It was an experience I'll never forget, but the audience still liked my music," he said.
Carrier met Santana and said he was "awesome."
Carrier considers his music to be music for the people meaning for everybody.
"Our music is different because it's my style of zydeco, rhythm and blues, soul and rock and roll.
Carrier's band is connected with several causes including working with youth especially Boys and Girls Clubs. He is also known for anti-smoking and playing music in smoke free environments.
"It's unhealthy and I want a healthy environment," Carrier said.
His advice for young musicians is: "Follow your heart. There is room for everybody, and keep the music traditional."