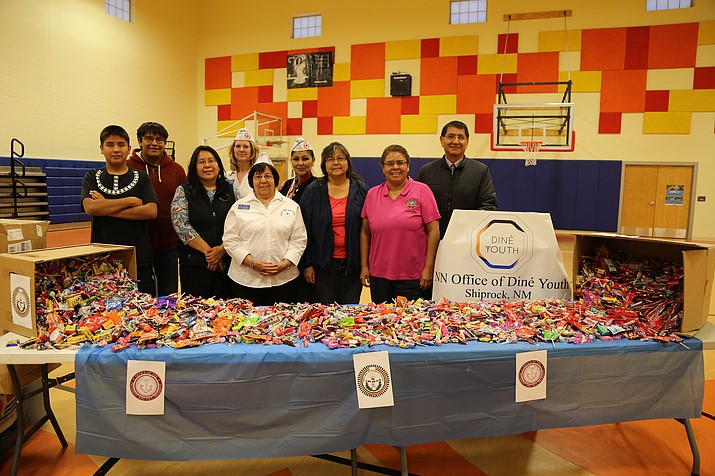 Originally Published: December 12, 2017 10:23 a.m.
SHIPROCK, N.M. —Navajo Nation Vice President Jonathan Nez delivered over 600 pounds of candy, collected from the candy exchange events to the Four Corners Blue Star Mothers, to be included with more than 70 Christmas care packages mailed to active duty soldiers.
The soldiers serve stateside and are deployed overseas.
"Today we are donating candy collected during our candy exchanges to active duty soldiers as a small gesture of appreciation for their sacrifices," Nez said. "During this time of the year, I'm sure our soldiers are missing home and that makes it all the more important to show that we care."
In the effort to tackle the diabetes epidemic and fight for a stronger and healthier Navajo Nation, the Office of the President and Vice President (OPVP) and executive departments have hosted and sponsored multiple health events with the most recent accomplishment being the candy exchanges.
During the 2017 Navajo Nation Fair, Nez challenged every child to collect as much candy as they could along the parade route, not to have more to eat but to trade with the administration for prizes.
Referred to as healthy incentives, the prizes included fidget spinners, basketballs, volleyballs, soccer balls, footballs, helmets and more to promote play and healthy active living.

After the 71st Annual Navajo Nation Fair parade, the OPVP collected nearly eighty pounds of candy with requests for future candy exchanges. Because of the positive feedback, Nez made the call to host this event for the remaining Navajo Fairs and Halloween. Following the 2017 Northern Navajo Fair, OPVP along with Navajo Special Diabetes Program held a candy exchange at the Shiprock City Market and outside the Fleet Management office. Both sites collected a total of 100 pounds of candy. To wrap up the Navajo Fairs, the 2017 Western Navajo Fair collected the largest amount of candy with over 420 pounds which were exchanged with a big thank you to the administration for staying true to health and wellness for the Navajo People.

OPVP hosted one last candy exchange following the first ever Dine Biichii'ya Harvest Fest and Farmers Market, held the day after Halloween on Nov. 1, at the Window Rock Bashas. With over 400 participants, farmers sold out of their produce, informational booths were full and many witnessed Nez as he signed the Navajo Nation Diabetes Awareness and Prevention Month proclamation. At the end of the day, OPVP collected 80 pounds of candy.

With nearly 680 pounds of candy total, Nez decided to give back to our military men and women.
"We wanted to remember our troops this time of the year, I am sure they are missing home, their families and simple luxuries such as a piece of candy," he said. "Our office decided to send them the candy that was collected and we hope our troops enjoy this small treat."
The Four Corners Blue Star Mothers is an organization that supports active duty soldiers and veterans. There are about 35 members from Shiprock, Naschitti, Upper Fruitland, Farmington and more.
About seven times a year the Blue Star Mothers send care packages to active duty soldiers. This time around, the packages will have green chili, coffee, socks, calendars, hygiene products and candy as a filler.
Delphina Joe, a member of the Four Corners Blue Star Mothers, said that the care packages give the soldiers a sense of home and a sense of belonging so our young warriors can feel good about themselves.
Tillie Muñoz, president of the organization, said that she was appreciative of the Navajo Nation and the community support from individuals for donations.
Donations are welcome, as well as monetary contributions to help with the cost of shipping. More information is available from Muñoz at (505) 559-0924.