Originally Published: October 4, 2016 9:16 a.m.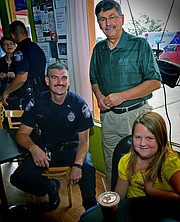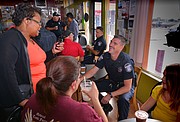 WINSLOW, Ariz. — The Winslow Police Department is adding its department to a nation wide program that facilitates interaction with residents and police where local residents have the opportunity to discuss concerns and hear the police viewpoint in a relaxed environment.
The first meeting was held Sept. 27 at MoJo's Coffee House. The next opportunity to talk to a cop will take place in October at the Sip Shop in downtown Winslow.
Winslow's Interim Police Chief Chris Vasquez was at the first meeting and he talked to many residents and said he was gratified at the turnout. Vasquez said he plans to attend each month. Lt. Ken Arend, Sgt. Canto and three other officers participated in the discussions.