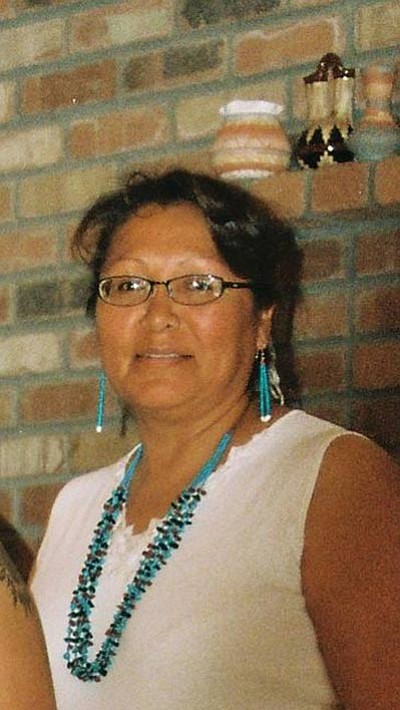 Originally Published: May 3, 2016 10:09 a.m.
FLAGSTAFF, Ariz. -Aug. 13, 2015 started out like any average day for Priscilla Begay. But in the evening, one of Begay's sisters called and Begay knew nothing would be the same again. Her sister, Virginia David, had died in a head on collision with a drunk driver.
David, who originally lived in Greasewood Springs, Arizona was a non-emergency transportation worker. She transported patients to their medical appointments. She was transporting patients that day, who also died. The man who was driving drunk had two passengers who were killed in the collision. In total, five people died as a result of the collision.
In memory of her sister, Begay is raising money and working with MADD (Mothers Against Drunk Driving) to hold a walk - Window Rock Walk Like MADD 2016 - that will take place Aug. 13 in Window Rock, Arizona.
"The main reason I'm doing this is because during the Navajo Nation Fair they have a night performance and only the driver that night was given a moment of silence," she said. "No mention of the other victims, no mention of anything or anybody else. If they had just been mentioned, everybody that was involved."
But that is not the only reason. David left behind one daughter and six boys.
"After that happened I saw how it really tore my sister's family apart," Begay said. "Her kids, they're still having a hard time. That was the reason I contacted Mothers Against Drunk Driving."
Begay wanted her sister's kids to have someone they could turn to, someone who is or had gone through the exact same thing the kids were going through. MADD's mission is to end drunk driving, help fight drugged driving, support the victims of those violent crimes and prevent underage drinking, according to its website. MADD also has a 24-hour victim help line for those affected by drunk driving, which can be found on its website: www.madd.org.
"We can say, 'I'm sorry, I'm here if you need anything,' but there are things I personally don't know so that was why I contacted [MADD]," Begay said. "They started calling us and sending us information...they were very helpful."
Begay and the family attended a Phoenix MADD walk in October, which was a very emotional day for the family.
"There are people who have been doing it for years and years," Begay said. "I just got it in my head that day that I wanted to do something like this in honor of my sister. Her world revolved around her kids and her grandkids. Everything she did was for them. I didn't want her to just be a memory."
Begay started working with MADD and became a volunteer for the organization. She decided that she wanted to do a walk on the same day her sister was killed, Aug. 13, which is also their father's birthday.
Since then, she has been working on the logistics with Window Rock and learning about the necessary legal requirements. She has been raising money and writing letters and getting help from people in the community.
The website for the walk is http://www.walklikemadd.org/index.cfm?fuseaction=donorDrive.event&eventID=703. People can register for the walk and donate money at the website as well.
The money raised goes toward the walk on Aug. 13 and to purchase t-shirts for those who register for the walk and participate.
Begay wants people to participate and thinks it is important to make people aware that drunk driving is happening. She said she has talked to many people who have had the same experience with a father, a brother, a sister, a mother.
"It's a hard thing to get over," Begay said. "So, at least, let them be aware that MADD is here and that MADD has a state office and if they should need help or need someone to talk to, they are available. Mainly to bring awareness."
Her message is also that if you are going to drink, designate someone to drive.
"Have somebody drive you," Begay said. "The whole thing is senseless and can be avoided 100 percent."