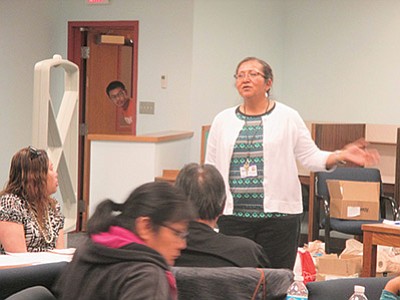 Originally Published: April 12, 2016 11:03 a.m.
POLACCA, Ariz - Students from the Hopi High Advancement Via Independent Determination (AVID) program impressed parents when they described how the program has helped them academically.
The students gave their presentation April 5 to the Hopi Jr./Sr. High School Parent Advisory Committee in the library. Approximately 40 parents, children and staff attended the gathering.
AVID is a regularly scheduled elective class that prepares students in the middle grade range for success in high school classes and in college.
The students giving the presentation included Shaniqua Campus, Sarena Honanie, Terrill Humeyestewa, Allan Paxson, Kaleen Joseph, Deondre Onsae and Alessandro Bolus.
Humeyestewa said AVID has taught him how to organize his class notes and his grade checks.
AVID students learn responsibilities including goal setting, grade point average calculations, binders, weekly grade checks and tutorials.
One of the cornerstones of AVID is WICOR, which stands for writing, inquiry, collaboration, organization and reading. The writing part includes revising, editing, Cornell notes, quickwrites and learning logs or journals.
The inquiry portion includes skilled questions, Socratic seminars, critical thinking, writing questions and open-minded activities.
The collaboration includes group projects, study groups, jigsaw activities and read-arounds.
The organization includes binders, calendars, planners, agendas and graphic organizers.
The reading includes surveying, questioning, reading, reviewing and reflecting as well as reciprocal teaching, think-alouds and critical reading.
AVID uses Fun Fridays for team building exercises such as Hoola Hoop challenge, partner drawing, cookie slide, brain teasers and guest speakers.
AVID students took a field trip to an Arizona State University graduation in December to show students what a college graduation is like.
Alban Naha, director of Federal Programs for Hopi Jr./Sr. High School, said the school has adopted the program this year and into the future.
Anjeannete Sangster, the AVID teacher at Hopi High, said she sees the students in the program make progress in their writing and public speaking skills. She said AVID is geared toward college so the students in her class had to research colleges including obtaining college pennants to put in the classroom in order to provide a college environment.
"They are building their skills so when they get to college that they can stay and maintain their grades," she said.
Native Americans nationally who attend college have a high dropout rate. The AVID program works to make sure the students are better prepared for college.
The students in Sangster's class are ninth graders and they can remain in AVID throughout their high school years. Hopi Junior High teacher Monica Kahe will teach a seventh grade AVID class next school year.
Sangster envisions the AVID students taking field trips to Ivy League and other out-of-state colleges. In order to join AVID, students have to be recommended by teachers and then go through an application process.
Naha said AVID is meant for middle of the road students - not remedial students, but not honor students. He said nationally AVID has shown that it closes the achievement gap, and could be the start of a school wide college readiness program.
"This is a wonderful opportunity," he said.
Hopi Jr./Sr. High School Interim Superintendent Charles Gover said at the beginning of the process, about a year ago, that they went to an AVID demonstration school in the Paradise Valley School District.
"It was awesome...AVID is awesome," he said.
Hopi High School Interim Principal Harvey Honyouti said he has watched the AVID students grow.
"The key to success is giving students confidence and AVID does that. These kids in AVID are very responsible," he said.
Honyouti praised the AVID teachers as did several of the parents in the audience.