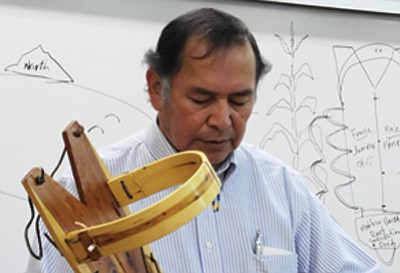 Originally Published: February 3, 2015 9:56 a.m.
TUBA CITY, Ariz. - An annual cultural and Native language symposium took place Jan. 21 to help Tuba City Unified School District (TCUSD) staff incorporate tribal culture and language tradition in the district's curriculum.
Hopi and Navajo cultural mentors and instructors discussed creative ways to strengthen the district's academic programs.
The full day schedule began with a traditional Native breakfast. Navajo traditional practitioner Raymond Jim Redhouse gave a welcome address in Tuba City High School's Warrior Pavilion. He spoke on "Sense of Direction and Sense of Belonging" and how those ideas can enable a Dine' way of life and determine one's destiny.
Redhouse specifically talked about the integration of the Dine' philosophy of education into everyday academics to help native students understand a changing society.
TCUSD Superintendent Dr. Harold G. Begay and and Adair Klopfenstein, TCUSD Native studies director, also spoke about the district's educational plan and daily direction to use Native language and traditional learning skills to help students relate quickly and more easily to modern society's academic challenges.
Four break-out sessions took place throughout the day, giving district staff and community members, who were welcomed to attend the free conference, the opportunity to hear 17 lectures by both Hopi and Navajo tribal cultural educators.
Sessions included the Navajo philsophy of learning by Dr. Herbert Benally and teaching history and American government by Dr. Ancita Benally. Thomas Hatathlie, a traditional practitioner who looks at healing from both a western and a Native perspective, discussed what it means to live in the moment as a cornerstone of healing.
Demitric Nizhoni, from the D.O.D.E Language Acquisition Library Language, discussed language loss as not just a Navajo or tribal crisis but a world-wide crisis for all ethnic groups. Ed Little, a professor from Dine' College, said the Dine' philosophy of the natural world in the classroom and how to apply mathematics and science in the everyday world.
Peter Yazzie explained the origin of the Navajo cradleboard and how the cradleboard connects a child to a firm foundation in life.
James Peshlakai gave a thought provoking lecture on Dine' teachings and shared Dine' understandings of their environment, and the relationships between earth, sky, water and food.
Dr. Evangeline Parson-Yazzie, a Navajo language professor at Northern Arizona University, talked about how teachers can implement Navajo language and culture into the classroom and how teachers can move students from indigenous language preservation to indigenous language use.
Clark Tenakhongva, a Hopi from Third Mesa and an award winning wood and Canyon Records recording artist, shared his knowledge of traditional Hopi songmaking and how his tribal language has served him well in his career assisting veterans to obtain health services.
Donald Wadsworth, a Hopi from Shungopavi, Second Mesa, talked about Hopi petroglyphs and how the Hopi ceremonial calendar can affect Hopi students and their attendance during the year when there are some restrictions on ceremonial activity in the Hopi villages.
Marie Salt, the Cultural Center director for Kayenta District, gave a detailed workshop on how Dine' people from conception through adulthood can be raised by attaining wisdom, thinking, planning and application for tribal survival through their home land culture and language.
Klopfenstein gave a workshop on Changing Woman and her traditional teachings and how those can be applied to students in a modern day world.
The day's focus for all attendees was to call attention to Native culture and how poeple can have a more heightened sense of awareness in those values in everyday activity. The day also focused on how Natives do not live in a disconnected world and a Native worldview of all people, creatures and things is interrelated. The final focus was how to help teaching staff incorporate two different styles of teaching that will meld to TCUSD's mission of cultural education and American education.
The symposium emphasized the responsibilities of TCUSD educators and staff to ensure their students use the best practices of their tribal culture to enhance and blend what they learn of American academics during the school day.
More information about the school district's curriculum vision and mission is available from Klopfenstein at (928) 283-1173.