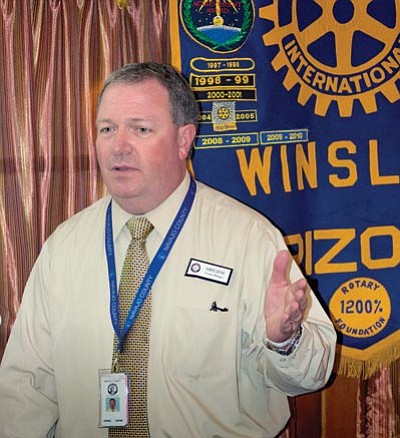 Originally Published: July 8, 2014 10:47 a.m.
WINSLOW, Ariz. - On July 2 Navajo County Manager James Jayne, Assistant County Manager Hemero Vella, County Supervisor Jesse Thompson and intern Evan Hatch visited the Winslow Rotary Club.
Jayne gave an overview of the county's budget for fiscal year 2014-2015 in relation to previous years and revenues. Since 2008 the county has operated with revenues below what was available in 2007. From 2008 to 2013 the salaries for county employees have been reduced by 7.5 percent. In the new fiscal year the county has returned salaries to the level before the 2008 reduction.
The total county budget for this fiscal year is still less than for 2007. There has been a reduction in overall employee numbers beginning in 2008, which will remain for the foreseeable future. Also, Jayne said the future holds no magic bullets enabling county funding to increase significantly and further moves to economize will be the county's standard operating procedure.
Vella explained some of the substantial savings the county has achieved by implementing smart phone applications that inventory and document all county road signs. He said more smart documentations are planned for the future.
Thompson explained how the manager, department heads and county supervisors work together during the budgeting process.