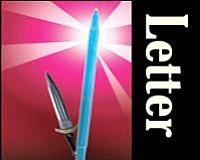 Originally Published: April 1, 2014 10:25 a.m.
To the editor
Native Americans have the highest rate of disability of any racial\ethnic group.
According to the 2000 U.S. Census, 6,836 people live on the Hopi Reservation and 21 percent of those over age five report having a disability. More than 60 percent of Hopi people age 16-64 with disabilities are unemployed. 33 percent of the Hopi population over age 25 has not graduated high school. Nearly 42 percent of Hopis have incomes below the poverty line, and the per capita income is $7,803, compared to a per capita income of $20,275 for Arizona as a whole. Nearly 50 percent of homes are heated with coal or wood, 40 percent lack plumbing facilities, 35percent lack complete kitchens and 34percent lack telephone service.
Poverty, unemployment, the lack of public transportation, low levels of education, inadequate housing and sanitation, and inadequate funding for federal health care are all current problems. These problems contribute to a lack of services to meet the health, educational and social service needs of all people residing in and near the Hopi communities, particularly those with disabilities. They also fundamentally impair the ability of people with disabilities to achieve independence, fully participate in their communities, and reach their maximum potential.
To address these needs, the Native American Disability Law Center is working with and providing technical assistance to the Hopi Disability Advisory Group and the Hopi Office of Special Needs. The Law Center is a non-profit organization that provides free legal services, education and referrals for Native Americans with disabilities in the Four Corners area with offices in Farmington and Gallup. As part of this collaborative effort, the Law Center is engaged in outreach to Hopis with developmental disabilities (DD), their family members, service providers and governmental officials to inform them of their rights, the services and supports available to them and how to access those services and supports.
As part of this effort following is some basic information regarding DD:
• Genetic factors have long been implicated in the causation of DD.
• There is also a large environmental component to these conditions, and the relative contributions of nature versus nurture have been debated for decades.
• DD affect between one and two percent of the population in most western countries, although many government sources acknowledge that statistics are flawed in this area. The worldwide proportion of people with DD is believed to be approximately 1.4 percent.
• It is twice as common in males as in females, and some researchers have found that the prevalence of mild DD is likely to be higher in areas of poverty and deprivation and among people of certain ethnicities.
The Law Center will provide additional information in future letters to the editor for more awareness and education related to Hopis with DD.
Hoskie Benally
Native American Disability Law Center
More like this story