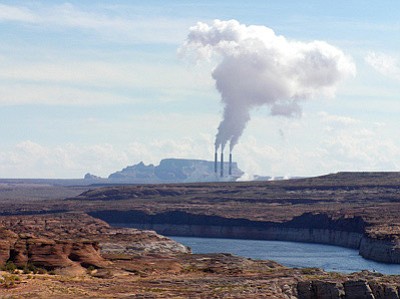 Originally Published: May 7, 2013 11:31 a.m.
WINDOW ROCK, Ariz. - The Navajo Nation council approved a lease extension for the Navajo Generating Station (NGS) through 2044 on April 29 with a number of amendments, but those amendments could stall the lease extension.
Scott Harelson from the Salt River Project (SRP) welcomed the passage.
"We regard that as a very positive step forward," Harelson said. "However, there were a number of new amendments that were approved and added to the legislation. Whether they materially affect the lease extension or not is something that we are trying to determine right now."
Harelson said SRP and the power plant's other owners are currently reviewing the amendments.
"Are they acceptable or are they not? If they're not, if certain amendments are not, we have to communicate that to the Council so they can determine how they would then proceed," he said.
Harelson said a decision can't wait until 2019 when the current lease runs out. Some decisions need to be made now so the plant's owners can focus on other issues.
"There wasn't really a deadline but that being said, the owners and SRP, we've communicated to the Nation that it needs to be done relatively soon because there are a number of different issues surrounding the plant that need certainty relative to the plant's ongoing operations beyond 2019."
Some of these issues include the Environmental Protection Agency's environmental improvements, a National Environmental Protection Agency (NEPA) process that needs to take place and ownership issues with Los Angeles and Nevada Energy.
"There will be some environmental improvements, clearly, whether it is $600 million dollars or $1.1 billion is uncertain at this point," Hareleson said. "What is certain is that the owners are not going to make that investment unless they know the plant is going to be operating beyond 2019 because you don't want to make that type of investment if you can't get your return. If the plant was to shut down in 2019 that would not be a wise investment."
One amendment states the plant's owners can't object to or hinder in any way any future claim that Navajo Nation might make to Upper Basin Colorado River Water. The current lease and a previous amendment to the lease extension both stated that the Navajo Nation has the right to make a claim to water on the Upper Colorado Basin.
"The owners are agreeable to that, we don't have any objection to that. The Nation can make a claim as it sees fit," Harelson said. "But what we can't commit to, we would have a concern committing to, would be not reserving the ability to in the future to object to a claim that we don't know what kind of claim it's going to be. How much water is it? Is it upper basin? Is it so much that it would affect the lower basin and the lower Colorado River?"
Harelson said SRP has a responsibility to its water shareholders in the Valley to protect water rights and water supplies.
"It is not in our best interest to withdraw ourselves from an argument that we don't know what it will be," Harelson said.
Harelson said he couldn't comment on the other amendments that the owners may object to.
Some of the amendments include:
• a reinstatement of a $1 million signing bonus;
• power plant owners must control fly ash; and
• NGS must give Navajos preference in employment as long as permitted by federal law.
Erny Zah, director of communications for the Navajo Nation, said the Navajo Nation expected a response from the owners on May 6 or 7.
"We are waiting to hear what the next step will be," Zah said. "Sounds like it's going to be another layer of complexities to a complex issue."