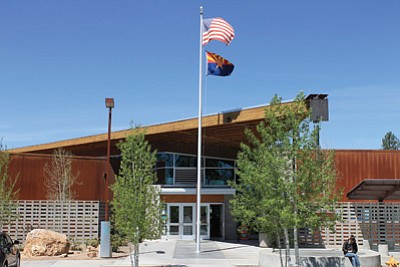 Originally Published: August 20, 2013 10:34 a.m.
FLAGSTAFF, Ariz. - Coconino Community College (CCC) jumped 20 spots from last year and is ranked 29th in the country as a top associate degree producer for Native American students.
Community College Week, a national magazine, analyzed degrees and certificates during the 2011-2012 academic year and then broke down the results across various race and ethnic categories and also academic disciplines. There are more than 1,655 community colleges across the country.
Brian Francis, a career service coordinator at CCC, attributes some of that success to a program that CCC started three years ago called TRIO Student Support Services. The program is geared toward low-income students, first generation college students and students with disabilities.
"There was definitely a high need for the student services department to serve those students," Francis said. "Forty-five to 50 percent of those students were American Indian, that was one of the things where we started working with these students."
He also attributes CCC's success among the Native American population to the growth and diversity of their employees and the emphasis on student services throughout the college.
"I think one of the biggest things about the students is creating that sense of place and belonging," Francis said. "I think CCC has done that in the past few years."
Another way the school creates a sense of community for Native American students is through a club called CCC Indigenous Student Association. A TRIO student started the association and Francis is the advisor. The mission of the association is to promote the preservation and the education of indigenous cultures and languages. During the academic year, students participate in Native American Heritage month by working closely with Native American services at Northern Arizona University (NAU), bringing in guest speakers and working with people from NAU in the applied indigenous studies program.
Francis said not only does the club bring a sense of place and belonging to the college but also to the community.
Francis also believes it is important for the students to be able to see what the road looks like ahead in the next year or two years. The college creates a bridge to the university through programs like CCC2NAU. Francis said there are quite a few Native Americans in that program.
"Creating that pipeline for students to come here, to feel welcome and to feel a part of the community but realizing also that we're here saying this is what you can get at CCC but also showing them that when you finish one day you could also work here because we have that diversity within the school," Francis said. "I think that's helped a lot."
Francis said his own personal experience of being Navajo, coming from the reservation as a first generation college student and not having a lot of money when he started out helps him to identify with the students. It also helps him to answer questions the students are not asking and to talk to their parents who may be from traditional families on the reservation where family is important.
"You have that extended family mentality, those connections are very strong," Francis said. "I always focus on how can we extend that family to CCC and also to the community of Flagstaff so that they feel a part of that as well, to where they don't feel like they have to go home every weekend."
With a 24 to 26 percent Native American student enrollment, CCC makes an effort to reach out and create programs for that population.
"How can we help them? And how can we help them succeed?" Francis asks. "From the time they walk in that door that's our chance to retain them and if we can teach them what the road looks like ahead then most likely they will at least finish an associate degree here and then move on from there."
Scott Talboom, executive director for institutional advancement, also points out that success breeds success.
"If you get a student who is doing well then they become a mentor for a student coming in under them," Talboom said. "I think that kind of snowballs, too."
One of those students is Shanice Smallcanyon. She received the President's CCC2NAU scholarships based on her ability to excel and her family story. She has also received many other scholarship through CCC and other federal programs. She is Navajo and a first generation college student who comes from a big family. As the oldest of five siblings, with divorced parents, she believes it is her responsibility to be a role model to her brothers and sisters and to her other family members.
"As the oldest one, I knew that I had to go out there and do it," Smallcanyon said. "The reason I chose CCC is because it is close to home and it's easily affordable and the instructors are willing to help you, everyone is just there to help you."
Smallcanyon said CCC2NAU has also helped her succeed. She gets the same benefits as an NAU student and lives on the NAU campus but she doesn't have to take classes at NAU until she is done with her associate's degree at CCC. With a family of her own, the ability to live on campus and afford rent in Flagstaff was important. She also has a flexible schedule at CCC where she can schedule time for class and for work, which provides her with the ability to provide for her family. She believes other Native American parents can take advantage of those things, too.
"That's what I want my people to know, that they can do it," Smallcanyon said.
Smallcanyon is working toward a biomedical degree after she finishes her associate's degree at CCC with the hope of getting accepted into University of Arizona's School of Pharmacy. She has one more year of schoolwork at CCC.
Francis said in the future he would like to see a Native American student services program that is connected to NAU where there can be a specific place to learn about tribal scholarships and creating programs that define exactly what college means and what Native American students want to study. The nursing program at CCC is a big draw for Native American students.
"[We want to] set that bar so that we can not only support American Indian students but hold them to it as well," Francis said. "And looking at the preservation of American Indian culture and American Indian language, how do we do that without wandering away from the general curriculum of the state of Arizona."
Francis said the question around Native American education is not how Native Americans are different than the community around them but what is the role of Native Americans at the college and how can they give back and teach the community.
"With students coming off the Rez, to see that bigger picture, not only how they are connected to here but also to the world," Francis said. "People talk about mother earth, father sky, all these things that are happening, organic food, the environment, the healthy movement, these are all teachings from our grandmothers and our grandfathers. If we can teach students and we can show them that bigger holistic view of what their purpose is here in this bigger community, that there is success in that. That is one of the biggest changes I'm seeing with American Indian education."
Smallcanyon is exactly the kind of student Francis is talking about. Her own family experience has translated into a desire to help her people. She encourages younger generations to understand that they can transform their lives, too, even if the journey is hard.
"Helping our people out especially and knowing that someone is there to give care to them," Smallcanyon said. "My husband has been a big part of forming my personality as well. He is traditional and we just want to give as much as we can to our people. I think that is the only way I can help, is to go to school, finish and help serve our people by giving them medicine and medical care."