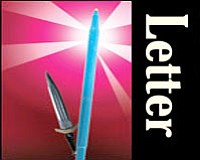 Originally Published: August 13, 2013 11:06 a.m.
To the editor:
The agreement to reduce haze over Grand Canyon National Park by decommissioning one of the three 750 megawatt units is a sham, a public relations gimmick.
I am glad that the Hopi Tribe, unlike the Gila River Indian community and Navajo Nation, did not sign. The Hopi Tribe is a critical player since they control the coal that is needed to supply coal to Navajo Generating Station (NGS) for an additional 25 years beginning in 2025.
The U.S. Bureau of Reclamation (BOR), an agency under the U.S. Department of Interior (DOI) is a pro-business agency. It is the largest owner of NGS. BOR dedicates 93 percent of its share of NGS to operate 16 gigantic water pumps to bring water from the Colorado River to Phoenix and Tucson. BOR owns 100 percent of Central Arizona Project.
So how can DOI be impartial, when it is in such a conflicted position? The other Arizona utility partners can meet their customer's demand without NGS. After all, these partners use only 6 to 25 percent of power output to meet demands according to the National Renewable Energy Laboratory report.
The bottom is line is money, money, money! The owners, including BOR, could care less about the adverse impact on the environment and health of Native people on whose land NGS was built under questionable means.
Whether NGS continues to operate into 2044 as a coal-fired plant is up to 12 independent villages, not the Chairman or Tribal Council. Only five out of 12 villages are represented on Council.
In the agreement the Navajo Nation has the option to take over NGS in 2044. By that time all of the three NGS units will shut down permanently due to old age.
I'm sure the owners of NGS will gladly hand over their title and let Navajo clean up the mess.
Vernon Masayesva
Founder and Director, Black Mesa Trust