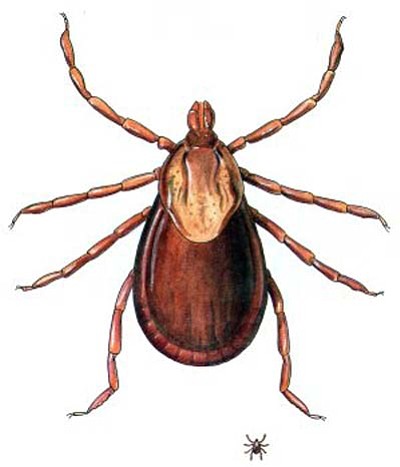 Originally Published: July 3, 2012 4:40 p.m.
WINDOW ROCK, Ariz. - The Navajo Nation Emergency Response Plan to a Foreign Animal Disease adopted on August 24, 2004 activated the Foreign Animal (FAD) Task Force effective January 13, 2012. The FAD Task Force recommends prevention activities and public health education of the Rocky Mountain Spotted Fever (RMSF). RMSF is a severe and potentially lethal human disease that has caused deaths of children and adults.
Ticks carry RMSF. The ticks infected with RMSF like to feed from the blood of dogs. If a human is bit from an infected tick, typically the first signs and symptoms occur two to 14 days after the bite and can cause fever, headache, rash, nausea, vomiting, muscle pain, lack of appetite, red eyes, and abdominal pain. It is important to seek immediate medical care if a human was or is suspected of being bit by a tick or experiences any of the signs or symptoms of RMSF.
The public health concerns of RMSF are reports of humans affected in Native American Tribes in the southeastern portion of Arizona and potential spread of RMSF infected ticks to northern Arizona and the surrounding states of New Mexico, Utah, Colorado, and Nevada. Although not all ticks carry this disease it is still extremely important to take the necessary precautions to the exposure risk of ticks.
To protect yourself, your family, your community, and your dogs it is important to:
• Check for ticks on self, children, and pets. Remember to check in the ears, belly-button, and folds of the body.
• Carefully remove ticks with a tweezers and place tick into a Ziploc bag. Get close to the base of the tick and pull it straight upward, be careful not to "pop" the tick. The area of the tick bite should be swabbed with alcohol. Keep the tick in the Ziploc bag and mark it with the date of removal.
• Clean your living environment both indoors and outside where ticks may live. Remove debris, weeds, wood piles (keep piles away from exterior walls of home), and mattresses/couches; this list does not include everything.
• Read the label on all pesticide products for the treatment of ticks inside or outside of your home for the safety of all residents in the home. DEET is a product for human use only and can protect against tick bites.
• Control ticks on dogs by using tick prevention dog collars, use tick top spot treatment or dips, and get proper veterinary care for your pets and animals.
• Animal control with spay or neuter.
For additional information please contact your local veterinary, Health Educator, Community Health Representative, or health care provider. The FAD Task Force includes the Navajo Veterinary & Livestock Program in Window Rock, Ariz. at (928) 871-6615, in Chinle at (928) 674-2069, in Shiprock, New Mexico at (505) 368-1007, and the Navajo Division of Health at (928) 871-6350.