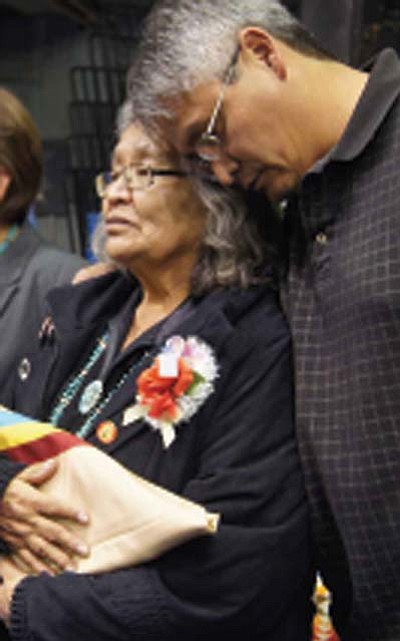 Originally Published: January 18, 2012 1:51 p.m.
WINDOW ROCK, Ariz. - Navajo Nation President Ben Shelly delivered a commanding statement of gratitude in a keynote address during a memorial service for Navajo Code Talker Keith Little.
"You are here because of the Navajo language, because of the Navajo Code Talkers. If it wasn't for these guys, we wouldn't be here," the President Shelly said.
President Shelly was one about a half dozen people who offered words of condolences at the Window Rock Sports Center Jan. 6, while others sang songs offering prayer. About 150 people attended the hour and half long ceremony.
Navajo Code Talkers were dressed in their finest to honor Code Talker Little. They wore their Navajo style gold velveteen shirts. Other veterans from various military branches were clad in military attire and adorned with clothing from their veteran based organizations.
All were in attendance to honor Code Talker Little as one of the leading visionaries for the Navajo Code Talkers Association and the Navajo Code Talkers Foundation. The foundation had been working for the past several years to raise money to build a Navajo Code Talkers Museum and Veterans Center, which is planned to be built a couple miles outside of Window Rock.
When Code Talker Little spoke about fundraising for the museum, he was often remembered for saying that the museum could be built if every American donated $1. President Shelly reiterated that statement.
"Let's do our part," President Shelly urged the attendees. His statement was met with applause.
Navajo Code Talker Samuel Tso delivered the opening remarks.
"He will live with us forever," said his comrade Code Talker Tso.
He added that both he and Code Talker Little were in Iwo Jima in 1945, but he didn't meet Little until after the war.
President Shelly opened his remarks about Code Talker Little with a story about some of their travels during their friendship. This story took place during a parade in New York.
President Shelly said he was talking with Code Talker Little and about how cold the air was. Then someone gave them a blanket to stay warm.
"I still have that blanket that we were given," President Shelly said. "I will keep it forever."
Funeral services for Code Talker Little were held Saturday, Jan. 7, 2012 at the Assembly of God Church in Fort Defiance, Ariz. with the burial following in Crystal, N.M.
The family asked that in lieu of flowers, donations be made in Code Talker Little's honor to the National Navajo Code Talker Museum and Veterans Center fund at www.navajocodetalkers.org or contact Wynette Arviso at (505) 870-9167 or by email at wynette@navajocodetalkers.org.