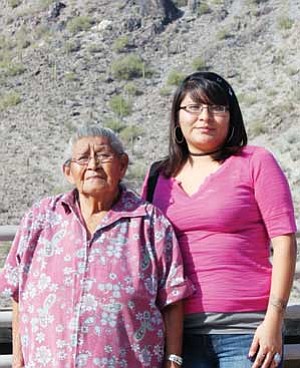 Originally Published: January 5, 2012 4:30 a.m.
POLACCA, Ariz. - The Northern Arizona Native-American Foundation (TNANAF) recently awarded a $1,000 scholarship for college to Sara Muchvo. Muchvo, born in Tuba City, is a 2011 graduate of Hopi High School. Muchvo is Hopi and Tewa and her clan is Parrot. Muchvo plans on attending Northland Pioneer College.
While at Hopi High School, Muchvo realized during her junior year that she wanted to work harder, get better grades, and improve her future. After Muchvo made that personal decision, she made honor roll three times. She credits her grandmother, Vivian Muchvo, for being a steady and positive influence on her life.
James Lomakema Jr., a social studies instructor at Hopi High School, highly recommended Sara for TNANAF's annual honor.
"Ms. Muchvo has proven to be an industrious and capable student who strives to be the best student she can be. She is a very dependable student who demonstrates her commitment in meeting her academic goals," he said. "Sara exhibits a pleasant demeanor that allows her to communicate effectively with her teachers and enables her to maintain positive relations with her peers."
The Northern Arizona Native-American Foundation, established in 2005, has granted nearly $30,000 in scholarships in its first six years. TNANAF's primary goals are to assist graduating seniors on their way to college and to assist students in the lower grades of high school in pursuing summer programs. The deadline for applications is May 1. Interested students can download the application from TNANAF's website at www.tnanaf.org .
More like this story