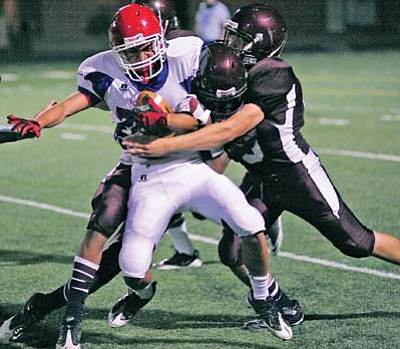 Originally Published: September 13, 2011 11:25 a.m.
The Winslow Bulldogs defeated the Holbrook Roadrunners 48-6 in Winslow on Friday to increase their record to 2-0 for the young season. The loss was Holbrook's second of the campaign as the Roadrunners saw their record fall to 0-2. Winslow built a commanding first half lead and coasted to the easy victory.
The Bulldogs scored on an 11 play 59 yard drive on their first possession of the game and scored on a two yard plunge by Kelly Wood. The conversion failed and Winslow led 6-0 with 8:25 left to play in the first quarter.
Winslow scored on its second possession on a 20 yard pass from James Martinez to Jude Oso to cap a 63 yard drive. Martinez hit Matt Smith with the two point conversion pass that gave the Bulldogs a 14-0 lead with 2:15 left in the opening quarter. That was the score as the first period ended.
The second quarter was a huge scoring success for the Bulldogs as they scored four touchdowns and increased their lead to 41-0 at the intermission. The first touchdown of the quarter came on a nine yard run by Wood just 16 seconds into the period.
Caleb Layden scored for the Bulldogs on a one yard run with 10:18 still left in the half. Wood ran for a two point conversion that increased the lead to 28-0. Layden got his second touchdown of the quarter with 5:14 left in the period on a one yard plunge. Jonathan Oso converted for a 35-0 lead.
The only score for Winslow in the second half came on a 15 yard run punt by Lucas Shirley. Jonathan Oso converted for a 48-0 lead and allowed the rest of the game to be played with a running clock due to the decisive lead. That score came with 9:54 left in the third quarter.
Holbrook got on the scoreboard on a 54 yard pass from Curtis Plumb to Torrian Epps with just 6:54 left in the contest.
he Bulldogs played their entire bench the entire second half and got every player on the squad to see considerable action.
Winslow will play the Flagstaff Eagles at Coconino High School Stadium at 7 p.m. on Friday for their next contest of the season. The Eagles lost to Mohave 28-18 on Friday.
In other games of interest on Friday: Chinle 48 Ganado 6, Show Low 23 Florence 13, Joseph City 70 Cibeque 0, Monument Valley 39 Pinon 7, Mogollon 76 Ray 20, Greyhills 48 Tuba City 12, Chino Valley 34 Williams 12, Blue Ridge 50 Page 0, Paradise Valley 55 Coconino 15.
More like this story