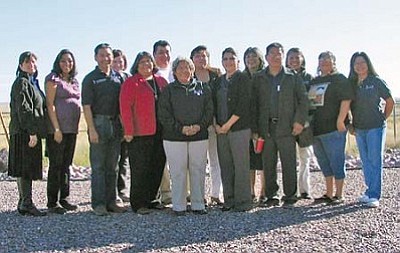 Originally Published: May 3, 2011 11:53 a.m.
The Hopi Education Endowment Fund (HEEF), a non-profit entity of the Hopi Tribe, is accepting nominations for members to their board.
Dr. Cedric Kavena, HEEF Nomination Committee Chairperson stated, "We are looking for nominees who are dynamic and willing to act as ambassadors of the HEEF, actively participate on committees and contribute to the HEEF by sharing their time and resources."
There are currently 26 members serving on the Board with capacity of up to 30 members. Kavena stressed that "Additionally nominees should be individuals who have a vested interest in helping to fulfill the HEEF mission of cultivating and nurturing the future of our Hopi people through education by growing and safeguarding a perpetual source of funding."
He went on to share that "The role of a member is important as they provide governance for the Fund and in return they are rewarded by knowing that their efforts have helped to sustain future generations of Hopi students and the community as a whole."
Once elected, members serve three-year terms and are provided opportunities to actively engage with the HEEF in a variety of capacities such as serving on committees, volunteering, networking and supporting special events.
HEEF Executive Director LuAnn Leonard stated, "The growth and success of the organization over the past 10 years speaks volumes about the skills, expertise and commitment past members have shown."
She added, "Our focus for the next 10 years is to work with the members to grow the fund and expand our services to meet the increasing needs of the Hopi people."
Funds raised by the HEEF support various educational programs and endeavors of the Hopi Tribe such as the Hopi Tribe Grants and Scholarship Program, which awards grants and scholarships to Hopi students across the U.S., the Hopilavayi Summer Institute and the Hopitutukaiki Summer Arts Program.
Any Hopi tribal member or current HEEF Member may nominate a person for election to the HEEF Board. Nominations will be accepted until 5 p.m. (MST) on Thursday, June 30.
To submit a nomination, contact Sam Tenakhongva at (928) 734-2275 or e-mail samt@hopieducationfund.org.
For more information about the HEEF, visit www.hopieducationfund.org.
More like this story