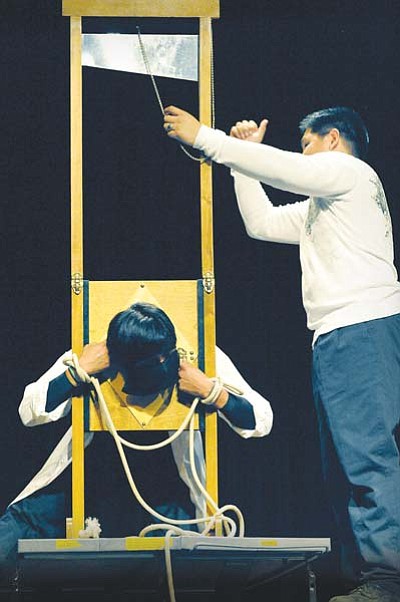 Originally Published: March 15, 2011 12:43 p.m.
WINSLOW, Ariz. - To benefit the Winslow Police Officers Association and the High School Street Law class, Myg Blade put on a one-hour magic show at the HS Performing Arts Center last Friday evening. The event was well attended, filling the entire center of the seating area. More than half the audience was children, who were all thrilled by the performance which included many comedy routines.
There were a variety of slight-of-hand tricks and three major illusions. One illusion was Blade's assistant passing through the center of Blade's body. Another major illusion was Blade escaping from inside a locked box and taking off a straitjacket at the same time. The last illusion was the assistant in a guillotine retaining his head after the blade had fallen. Each illusion in the show was created from scratch by Blade who started his career in Pinon.
Blade currently lives in Winslow with his wife and child. They have been in Winslow for about a year. The inspirations for Blade have been Harry Houdini and Chung Li Su, two of the most famous magicians. Blade is self-taught and has been performing for six and a half years. Blade and his assistant have performed in four Navajo reservation fairs and the Sedona Mardi Gras as well as other venues.
More information can be found at www.mygblades.com.