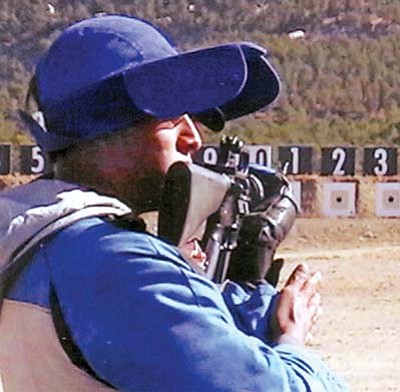 Originally Published: July 26, 2011 11:11 a.m.
RATON, N.M. - Last month 22-year-old Navajo Bronson Scott found himself in Raton, N.M. at the New Mexico Mid-range and High Power Regional Championship Match where he took first place in two different competitions.
The competition was held over three days and tested each shooter on various skills. And although Bronson has only been shooting since February, and this was only his fourth major competition he placed very well.
According to Bronson's father, Stephen Scott, it was a local friend who convinced Bronson to get involved with shooting competitions.
"A criminal investigator, Albert Nez, here in Tuba City who shoots service rifle competitions is a friend of ours and he kind of introduced shooting to Bronson," said Scott. "Then Albert saw that he was interested and told us we should try it, and he just fell in love with it"
In order to be able to compete in competitions like these you have to be categorized by the NRA.
"You have to be an NRA member, which he is," said Scott. "There's a thing where they have to see how many rounds you shoot, and then they send these results off to the NRA and they classify you to what your consistent scores aren't and you shoot with your own category of shooters."
On Friday, Bronson competed in the Service Rifle Sharpshooter class where targets are at 300, 500, and 600 yards. Bronson placed first in this event with a score 559-14X.
Events like these have special rules that shooters must follow in order to compete such as open sights only, no scope is allowed, all shooting must be done off-hand, and there is no resting of the rifle allowed.
On Saturday and Suday, Bronson took first place in the Service Rifle Expert class, where the targets are at 200, 300, and 600 yards, with a grand aggregate score of 1190-14X.
"He's been shooting a lot since he was a kid," said Scott. "They have a thing out in Red Lakes where you shoot targets and win turkeys and prizes he's been doing that for a while now."
Bronson hopes to continue competing, and his next event will take place in October.