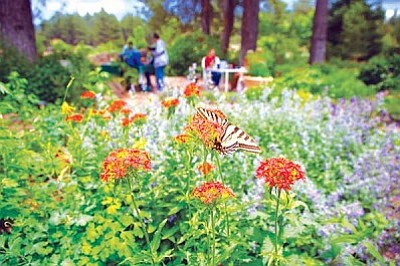 Originally Published: April 26, 2011 12:01 p.m.
Saturday morning birdwalks at the Arboretum
Audubon Society members lead bird-watching tours in the gardens
FLAGSTAFF, Ariz. - During the months of May, June, and July, bird experts from the local chapter of the Audubon Society will lead bird-watching tours through the Arboretum's gardens. Birdwalks take place every Saturday from 7:30 to 9 a.m.
With over 2,000 species of plants and a permanent water source, the gardens provide an ideal refuge for migrating birds. The wide diversity of plant species attracts a wonderful array of birds to the Arboretum. Binoculars and guidebooks may be borrowed during the tours and checklists are available for all participants. The guided birdwalks are free and open to all ages.
For more information, call (928) 774-1442, ext. 110 or visit thearb.org.
Celebrate Mother's Day at the Arboretum
Enjoy the spring gardens with your loved ones on Mother's Day
FLAGSTAFF, Ariz. - Mother's Day, on Sunday, May 8 is a wonderful time to visit the gardens at The Arboretum at Flagstaff. To celebrate the special day, all mothers are admitted at no charge and will receive a special gift, so bring your family out for a tour of the flowering trees, shrubs, and other early bloomers.
Mother's Day features regularly scheduled tours of the gardens at 11 a.m., 1 p.m. and 3 p.m. and special wildlife programs at 12 and 2 p.m. A photography station to capture your family memory is arranged in the gardens. A chocolate tasting hosted by Brookside Chocolate will be available starting at 10 a.m. A fun planting activity for kids includes a take-home gift. For more information, visit www.thearb.org or call (928) 774-1442, ext. 124.
The Arboretum is a botanical garden, research center, and nature preserve dedicated to educating the public about the plants and plant communities of the Colorado Plateau. It is located four miles south of Route 66 on scenic Woody Mountain Road in West Flagstaff. The Arboretum is open daily from 9 a.m. to 5 p.m., April through October. General admission is regularly $7 for adults, $6 for seniors, $3 for children 3-17 and free for children under the age of 3.
For more information, visit www.thearb.org or call (928) 774-1442.