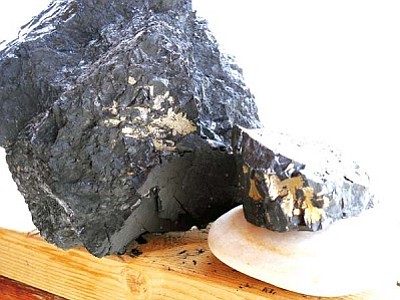 Originally Published: April 5, 2011 4:18 p.m.
HOPI RESERVATION, Ariz. - This past winter, many Hopis who haul coal from the Peabody Mine to heat their homes and kivas have noticed that there is a lot of shiny, gold colored chunky flecks in their coal stockpile which has shown up more frequently this year than any other year of gathering this mineral for winter warmth.
It's not gold or even silver, though you hear chuckles from some of the men about "getting rich" as they are the ones who are hauling it, bringing it into the house and have noticed these shiny flecks in the black coal pieces when they have tossed in a piece or two into the stove.
The "gold" is actually a mineral called iron pyrite and can come in a shiny silver color as well as a warm brassy yellow color, which looks like real gold and is sometimes called "Fool's gold" because of this.
Iron pyrite is a mineral, iron sulfide with the chemical formula of FeS2. It can be found with other sulfides or oxides in quartz veins, sedentary rock or metamorphic rock as well as coal beds like the ones that Peabody drags up for household heat use.
But the appearance of iron pyrite in the coal that is being used for Native household use could also have some troublesome concerns, including that modern coal beds are now sprayed with limestone dust to reduce the hazard of dust explosions. Iron pyrite has some chemical properties, which can cause spontaneous combustion and the limestone spray used to coat the exposed coal beds can also produce possible health concerns when burning it inside enclosed homes with little ventilation.
Some early uses for iron pyrite were as a source of ignition in early firearms, with the iron pyrite struck against a piece of flint. It was also used as a mineral detector in radio receivers and was also used as an abundant, inexpensive material in low cost photovoltaic solar panels and in jewelry called "marcasite" often set in ornate Victorian-style settings giving a diamond-like shine.
A former engineer at Salt River Project stated that the prevalence of so much iron pyrite in these coal deposits is a good indication that the mined coal bed is being depleted, since these iron pyrite striations show up because of long term oxidation at the bottom. The appearance of iron pyrite also shows expanded outside exposed pressure which produces more cracks in the coal bed compromising the purer coal mineral state.
A representative from the Hopi Tribe's Office of Mining and Mineral Resources and Peabody Coal Company's Hopi liaison were both unable to answer questions as to the danger of burning iron pyrite, and so far, there has been no public information regarding this higher prevalence of iron pyrite in the coal being burned in Native household stoves for heat.
The iron pyrite is generally regarded as a waste material when mining coal by the ton for commercial use.