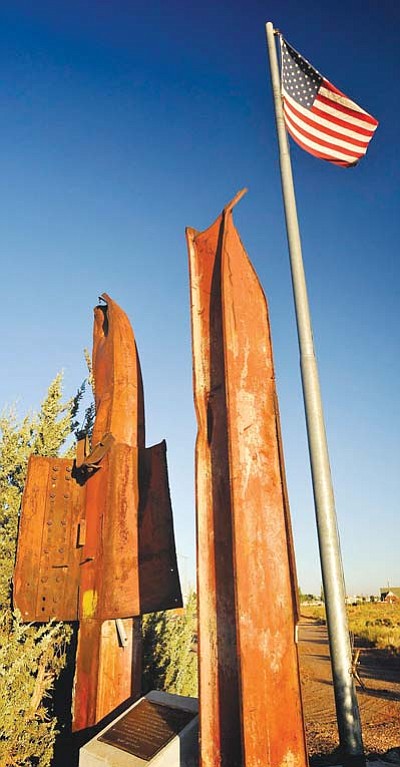 Originally Published: September 8, 2010 3:28 p.m.
WINSLOW, Ariz. - Nearly nine years after the horrific events of Sept. 11, 2001, two twisted and massive 14- and 15-foot-tall steel beams stand in silent testimony to the horror that New York City and the rest of America suffered. Winslow is unique in its possession of such large artifacts from 9-11, because only small pieces were given out to other communities after the larger beams were trucked off-site.
How Winslow came to acquire this treasure is local knowledge, but it has not been documented. Essentially, someone in Winslow knew someone at the wreckage scene in New York and asked if it would be possible to obtain some of the wreckage for a memorial in Winslow.
With permission given, Winslow Wal-Mart contacted corporate headquarters and one of their trucks in New York City was sent directly to the site. The two beams were promptly loaded on the truck with plans to come straight to Winslow, but not before being stopped and questioned about whether they had permission to move the prized beams.
Eventually, the supervisor relented and released the cargo to Winslow but said that no more large wreckage pieces were to leave the site.
The beams and memorial are currently located at the corner of Third Street and Transcon Lane. Standing next to the wreckage is the only way to understand the destructive force applied on that fateful day.
Plans are in the works by the Winslow Rotary to move the memorial a few blocks west to a grassy city parcel and creating a special Winslow Memorial Park, with the Trade Center memorial as the centerpiece. The new home for the 9-11 memorial will be a formal and inspiring destination for people from around the Unites States to pay their respects.
Anyone wishing to support or participate in this project is encouraged to contact the Winslow Rotary at P.O. Box 729; Winslow AZ 86047.