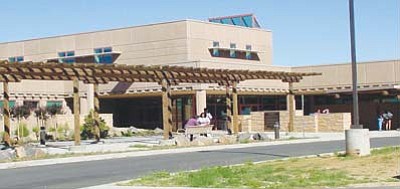 Originally Published: November 30, 2010 1:13 p.m.
POLACCA, Ariz. - Nov. 17 marked the 10-year anniversary of the Hopi Health Care Center (HHCC). CEO Capt. DeAlva Honahni and Clinical Director Dr. Darren Vicenti joined Hopi Tribal Chairman LeRoy N. Shingoitewa and Vice Chairman Herman G. Hohanie in thanking staff and community members for the realization of a well-planned dream. Others who were on hand to celebrate this milestone were Miss Hopi Johnetta Honie and First Attendant Jenna Lamson, Chief Administrative Officer Leonard Talaswaima, Chief Nurse Executive Carletta Joshevama and the Hopi Health Care Center Commissioned Corps.
"It's amazing how fast time flies," Honahni said. She remembered the celebration as a way to give thanks - an emotion appropriate to the upcoming holiday season.
"I thanked the people involved from the beginning and along the way that planned, developed, and obtained the funding to help the vision of HHCC become reality," Honahni explained. "I thanked those staff members who followed us here from Keams Canyon and other staff members in the audience."
Honahni explained that HHCC replaced the old Keams Canyon Public Health Service Indian Hospital.
"I thanked the members of the planning committee for the wonderful way they included Indian Health Services, Tribal Health Care and Behavioral Health in one setting. Community members can come to one facility to meet all of these needs in one location.
"Over the years this collaboration allowed for safe and quality care in one place," Honahni said.
Further collaborations with Flagstaff Medical Center and the University of Arizona Cardiac Program, as well as with pediatric and telemedicine programs, has helped make HHCC a one-stop shop for its patients, Honahni pointed out. The clinic also features dental and eye clinics. All of this means a savings for community clients who used to have to travel as far as Phoenix and Tucson for some of these services, she said.
"I am also pleased with the beauty of the clinic," Honahni said. "It's a place to come for health care, but also invites wellness as a gathering place for community members. After ten years, it still looks new; the staff takes pride in their workplace and keeps it looking nice."
It was this beauty that first attracted Vicenti.
"I'd come home for a ceremony at my village," Vicenti said. "I saw the new facility as I drove buy and it caught my attention. I stopped and went in, and was amazed at its beauty; the design and the ambient light. As I stood there, a woman from the appointment desk came up and welcomed me. This was an unexpected customer service feature that added to the positive atmosphere compared to other IHS facilities I was used to."
A year later, Vicenti was working at HHCC; by the next year he was serving as clinical director for the facility. In this position he has watched the growth of the clinic and the changes that have taken place.
"In all fairness, when we moved from Keams Canyon, we held on to the principles of the IHC facility as primary access walk in care. It was clear that the health issues of this community needed to be addressed in a primary care setting," Vicenti said. "The chronic illnesses we see here are better addressed by primary care; illnesses such as diabetes, hypertension, heart and kidney disease, and woman health issues from gynecology to prenatal."
By 2004, HHCC had begun to phase out walk in care to create urgent care/emergency and ambulatory services. This included ancillary eye and dental services, Vicenti explained.
"The beauty of this is that we've been able to address the health issues of the community, as identified by the Hopi Tribe and the Community Health Assessment," Vicenti added. "This reflects that we are well-positioned to meet the health needs of this community."
There are other measures that HHCC is successful in its goals. Vicenti pointed out that the clinic went from less than 2,000 primary care visits per year to 10,000; in the last three years there has been a 30 percent increase in primary care visits. There have been significant increases in specialty services. Staff retention is another indication of success.
"Typically in Public Health Service, one expected to do two years in a rural setting before moving on to the city," Vicenti said. "People stay here longer. One staff member in emergency had served at Keams Canyon. Even when they leave, they come back here to work part-time. We have grown our medical staff by 20 percent. We have had three Hopi physicians return home to work, and we hope to have our first Navajo physician in 2011."
Vicenti credits the community with some of this success.
"We all have choices where we would like to work," Vicenti said. "Many people - even non-Natives - have chosen to live here, in a place where the community reaches out and makes them a part of that community. I appreciate them."
When Vicenti first arrived at the clinic, CEO Capt. Melvin told him, "We are very fortunate to have this beautiful facility, where the community and land owners held a vision of a facility where people would like to come to. But all of this would be just brick and mortar if we did not build the services and programs within."
Clearly, HHCC is much more than brick and mortar to the community it serves.
"Through partnership with Winslow Indian Health Services, Tuba City Regional Health Care Center, Little Colorado Behavioral Health, Flagstaff Medical Center and others, we are able to provide the health care needs specific to this community in one setting," Vicenti concluded.