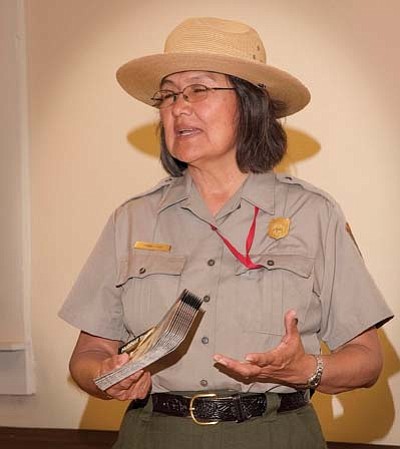 Originally Published: May 25, 2010 6:09 p.m.
Fittingly held at the old Hubbell Trading Post in Winslow on the evening of May 20 was a lecture about the Hubbell Trading Post at Ganado. National Park Service Ranger Tina Lowe, who was raised in the area and worked at the trading post as a girl, gave the talk.
John Lorenzo Hubbell was born in the New Mexico Territory in 1853. He learned the customs and language of the Navajo while traveling in the area as a clerk and interpreter at different military trading posts. In 1876 he began working at the Ganado Trading Post as an employee. In 1878, he purchased it, after which it became known as the Hubbell Trading Post.
The Hubbell Trading Post was a location for socializing as well as for trading. It was a place of entertainment and a place to inquire about a potential wife or husband for yourself or a relative. The trading post had a cigar box attached to a table on the right as you entered the front door. In the box was loose tobacco and cigarette papers. A visitor was welcome to roll a cigarette, but smoking was not permitted in the store, only outside.
Hubbell employed about 60 people in the summer and about 30 people in the winter months. He had three cooks and one baker working at Ganado. Hubbell owned a total of 30 trading posts and two shops in Long Beach, Calif.
Hubbell Trading Post at Ganado is open every day. Ranger Lowe encourages everyone to visit and enjoy the rich Native history preserved there.
More information can be found online at www.nps.gov/hutr/index.htm.