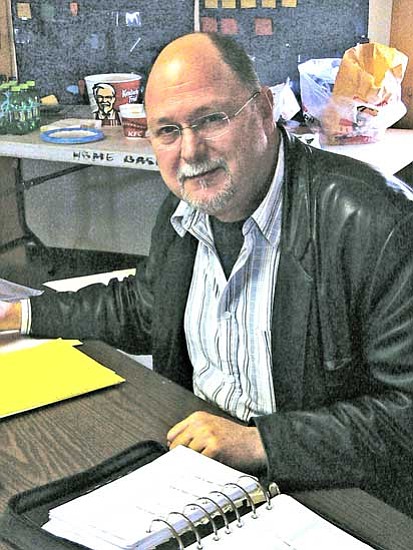 Originally Published: March 23, 2010 9:56 a.m.
BIRDSPRINGS, Ariz. - Little Singer Community School welcomed Robert C. Wortman, Ph.D to its parent conference where families received the exciting news from "Dr. Bob" that the long-awaited Publishing Literacy Center had arrived.
This center will allow parents and students to create their own books at the school's parent center.
Wortman, who has over four decades of teaching and school administrative experience, is an educational consultant working with the organization, "Unite for Literacy." Now retired from the Tucson Unified School District, Wortman also teaches with the University of Arizona's reading specialist program. He is the Title 1 Director of Reading and Progress, and Early Childhood.
"We are involved in helping schools become compliant with Title 1 expections," Wortman stated. "Title 1 requires that parents be involved with funding and that they are included on an advisory council. Further, parents should have input on how Title 1 funding is spent, and schools must host at least one advertised meeting where parents sign in. There, the budget is shared with parents, and told what the program covers and how the funding is used."
Finally, Wortman said, parents can tell the school what they like and dislike; what they would like to see more of; and what they would like to see less of.
"Title 1 is part of the No Child Left Behind initiative," Wortman added.
"Weighing your cows every day doesn't make them give more milk," Wortman said in response to the feeling of many teachers that they are teaching to the AIMS test. "We are using the book abundance model - let's get more books into the home."
Wortman explained that the Bureau of Indian Education identified 27 schools in need of support to achieve Annual Yearly Progress; Little Singer is one such school. Unite for Literacy supports four curriculum specialists, and also helps upgrade Title 1. The intention is to fully connect parents, children and teachers in order to help get reading in the home as part of a daily routine.
Unite for Literacy delivers five books to every kindergarten and first grade student each month. Research shows that the more books a child owns, the better they do in school, Wortman pointed out. Children who are read to every day from birth - or who have been told stories from their culture or family history - do well in school.
The books that are sent home with kindergarten and first graders have been written specifically for Navajo students - animal names in the Navajo language, a story of how a young child makes her own Navajo taco for the first time - these are topics that Navajo children are interested in.
With the installation of a special laptop, printer, paper cutter and stapler, parents and students will be creating their own books.
"Parents can download pictures from the web or from digital cameras. Kids can make their own drawings and scan them to create different types of books-counting, naming, Navajo language, clan books. Anything you can think of," Wortman said.
"Parental interaction with their children is key," Wortman said. "If you have a child who has read 20 books versus a child who has read 2,000, a teacher will see a huge difference. Those two children, Wortman continued, may be equally intelligent, but the child who has read 2,000 books will exhibit a vocabulary four or five times greater than the child who read 20.
Even where a child has read the same book 1,000 times, students exhibit greater achievement.
Research indicates that students who are two grade levels behind from fourth grade on up, can raise their reading level by a full year by reading half an hour a day, Wortman added.
"Parents tell us that their child has memorized that favorite book, and they monitor the text as they listen to the story," Wortman said. "The child is comfortable with the book, and they feel successful. We learn by being successful. The key is finding books that the children love."
It is important for parents to recognize that academic English and the way a family speaks at home are very different.
"One talks differently at school than they do at the kitchen table," Wortman explained.
Earlier in the day, a group of teachers met with Wortman.
One teacher explained that although reading in the home every day sounded great, often, the caregiver of given students cannot read him or herself. Older siblings that might be depended upon for help have their own homework to do.
"I know it is hard," Dr. Bob replied. "But we must try to establish reading in the home. We must keep pushing. What if we promote parents buying a book for Christmas even though it is difficult for a parent to go to a bookstore?"
Wortman also expressed that it is crucial that reservation school libraries remain open and accessible at all times because often that is the only source of books for families in some communities.
Another teacher asked what strategy the school can use when a parent might blame the school for their child's lack of reading skills.
"This is not a blame issue. We need to tell parents, 'Let's work together,'" Wortman said. "Someone has to agree that the kids will read half an hour a day before television or video games.
"Reading is more than just books; it can be a magazine or newspaper. A magazine subscription can cost less than a video game. Kids who love sports will enjoy Sports Illustrated Jr.; if they love animals, get them National Geographic Jr. Ask different organizations to adopt you for providing books for your students - there is no substitute for reading."