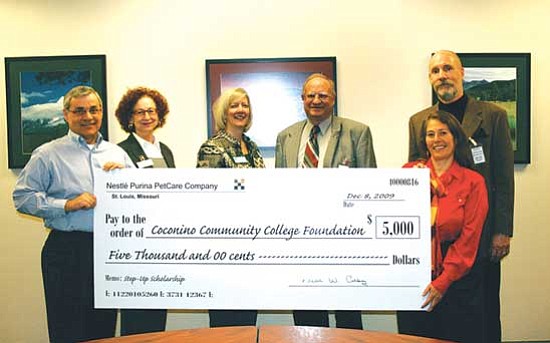 Originally Published: February 23, 2010 9:08 a.m.
FLAGSTAFF, Ariz. - Nestlé Purina Petcare Company is joining Coconino Community College President Leah L. Bornstein, CCC Foundation Board President, Chris Bavasi, and officials from Juvenile Court Services to provide Coconino Community College scholarships for young people associated with the Coconino County Juvenile Court system.
Nestlé Purina officials presented the CCC Foundation - the fundraising branch of the college - with a $5,000 check for the Step Up Scholarship on Feb. 16 at the Nestlé Purina Petcare Company Flagstaff plant.
"On behalf of Nestlé Purina, we're just excited that we are able to help in this request for the second straight year from Coconino Community College and the scholarship fund," said Nestlé Purina Plant Manager Bill Calloway. "We look at ourselves as good corporate citizens of Flagstaff and this is a great way for us to contribute."
The idea of the scholarship came out of a discussion with the college, former Flagstaff Mayor Joe Donaldson and juvenile court representatives about how to help potential students receive an education - students who might otherwise not have the opportunity. Another motivator for Donaldson to be a contributor and driving force in establishing the scholarship was to honor his mother Mary because of her strong belief in education.
"If this scholarship helps just one individual, it would have a domino effect, impacting so many lives in a positive way," said Donaldson. "As for Nestlé Purina, they set the pace for companies investing in the community."
Nestlé Purina's $5,000 gift is the second contribution made by the company, bringing their individual total to $10,000. To date the total raised for the endowed Step Up scholarship is $65,000.