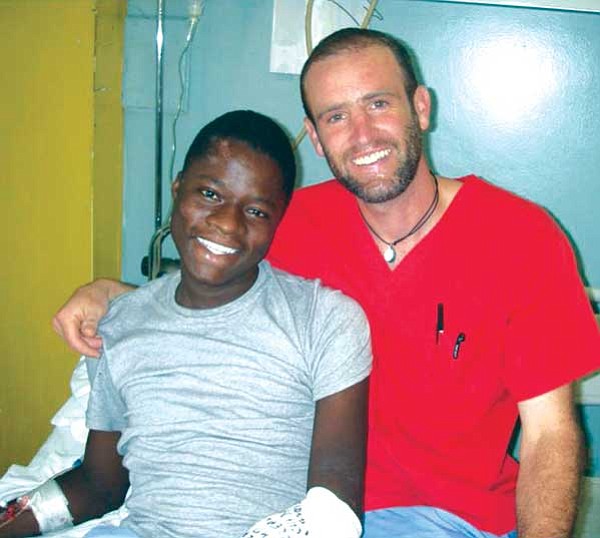 Originally Published: February 17, 2010 11:42 a.m.
FLAGSTAFF, Ariz. - As a nurse at the Coconino County Health Department (CCHD), Darren Blue has spent the last several months focusing on the H1N1 (swine) flu response. Efforts to immunize Coconino County residents against the novel virus have been challenging and rewarding. However, the recent tragedy in Haiti redirected Blue's efforts.
Blue took a two-week leave from his position and traveled to Haiti as a volunteer of Nuestros Pequeños Hermanos International (NPH, "Our Little Brothers and Sisters"). NPH, supported by the U.S.-based Friends of the Orphans, works to transform the lives of orphaned, abandoned and disadvantaged children in Latin American and the Caribbean, including Haiti. The organization's presence in Haiti includes an orphanage which serves as a permanent home for orphaned, abandoned and disadvantaged children, various community and education programs and St. Damien Hospital, the only free pediatric hospital in Haiti.
The hospital sustained structural damage in the Jan. 12 earthquake but remained operational and was one of 18 hospitals treating patients, both children and adults.
Blue participated in a program to address the needs of thousands of children orphaned by the disaster. He worked as a surgery nurse at St. Damien Hospital and assisted at mobile clinics set up in tents in the affected areas. He also assisted by distributing food and supplies to those left without basis necessities and shelter.
"Much of our work was to stabilize patients and to send them to other areas for more specialized care when available. We saw everything from respiratory issues due to the dust and debris, malnutrition and dehydration, and severe injuries caused by the wreckage from the earthquake. Resources were limited and we did the best we could with what was on hand," Blue said.
Several CCHD staff members covered various duties during Blue's absence. The staff was happy to assist knowing the important work that Darren was involved in while in Haiti.
Blue also serves as a member of the CCHD Medical Reserve Corps (MRC). Local MRC members work with the Coconino County Health Department and Emergency Services Office to support local public health initiatives. Members also assist the CCHD with emergency personnel needs. MRC volunteers participate in community preparedness activities, such as exercises for shelters, mass prophylaxis, vaccination clinics, and other emergency scenarios and train with local emergency response partners.
Two other MRC members are on standby status under the Medical Reserve Corps for the Haiti relief efforts and if called they will fulfill urgent requests for specialists of pediatric respiratory therapy and trauma patient transport, respectively.
Medical and public health professionals interested in information about the Coconino County MRC can call (928) 679-7272 for information.
Visit www.friendsoftheorphans.org, or call 888-201-8880 to make a donation in response to the Haiti tragedy. All donations made to Friends of the Orphans will be directly applied to immediate needs such as first aid supplies and medicine, food and water, shipping of necessary materials to assist in efforts, treating the injured and the establishment of programs to help the most vulnerable.
More like this story