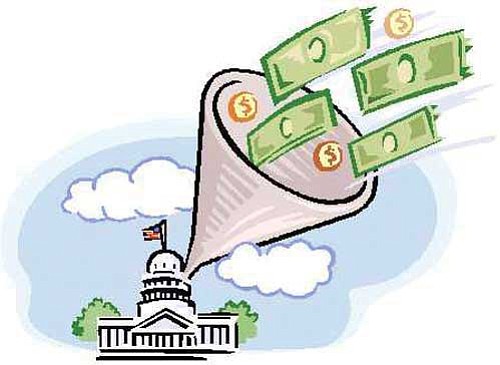 Originally Published: February 9, 2010 2:32 p.m.
It's no big secret that the state of Arizona is up to its eyeballs in debt. In fact, much of the nation is in dire straits with seemingly no end in sight. Consequently, many states and communities are now toying around with imposing taxes in an effort to raise funds to provide even the most basic of services that many of us took for granted. Throughout much of 2009, many state and federal programs have been cut (such as state parks and rest areas) or had their budgets significantly reduced in attempts to curtail unnecessary spending in these tough economic times, but unfortunately, that has not been enough.
The city of Phoenix just imposed a 2 percent tax on food, which will mean those citizens can expect an additional $2 to be tacked onto their grocery bills for every $100 they spend on food. With prices on numerous consumer goods and services already at such high levels, many Phoenicians are rightfully outraged that their government could even consider imposing taxes when they are already barely afford to take care of their families.
Meanwhile, Gov. Jan Brewer and the state legislature are pushing to impose a temporary 1-cent sales tax that will be decided on by Arizona voters in May. The tax, which is intended to last 36 months, is expected to bring in about $900 million a year by raising the current tax to 6.6 cents for every dollar spent in Arizona, but even that may not be enough as the state is presently faced with a $1.5 billion budget deficit for the current fiscal year and a projected deficit of $2 billion for next fiscal year.
So where does it all end? Unfortunately, it doesn't. Capitalism has long been a driving force of American society, and taxes are one of the "necessary evils" we will be forced to live with for generations to come so long as our society is governed by the need for monetary wealth.
Over 230 years ago, before the United States came into existence, the phrase "no taxation without representation" held much the same meaning as it does today. Prior to 1776, British colonists argued the British Parliament should not tax them because they were not represented in the Parliament. However, some argued that the colonists were being represented in Parliament by means of virtual representation, so attempts to collect taxes from the colonists continued. This outraged the colonists and ultimately resulted in the Boston Tea Party in 1773.
The issue back then wasn't about the amount of taxes, but more about the political decision-making process by which these taxes were decided in London without the colonists being fairly represented in Parliament. Doesn't this sound eerily familiar? It should. Today, much of the American public is questioning the decision-making process of our elected leaders in Congress and the spending of their tax dollars in Washington, D.C., seemingly without any representation. With the national debt now hovering near $12.4 trillion, I don't think the average American taxpayer is too concerned about how much they're paying in taxes. Like the British colonists, I believe American taxpayers are more concerned with how our elected officials - who are supposed to represent us - are spending those hard-earned tax dollars.
But what if there was a solution? What if taxpayers could determine for themselves where their tax money goes? What a novel concept! Of course, it will never happen because most (if not all) politicians would be against the idea from Day One because their livelihoods would all but vanish and they would actually have to find real jobs and pay taxes to boot - just like the rest of us. But imagine, if you will...the average Joe (or Jane) Citizen being able to say, "I want my tax money to go towards..." and choose any public cause of their choice. If that were the case, I'm almost certain that the vast majority of American citizens wouldn't mind paying taxes knowing full well that their money would be used toward what it was intended for.
But for now, disgruntled Americans have been holding "tea parties" to try and get their message across to our elected officials in Congress. Let's hope that these messages are eventually heard lest we have another American Revolution. It has, after all, happened before, and we are well within our rights to have another one since the Declaration of Independence asserts that, "Governments are instituted among Men, deriving their just powers from the consent of the governed. That whenever any Form of Government becomes destructive of these ends, it is the Right of the People to alter or abolish it, and to institute new Government, laying its foundation on such principles and organizing its powers in such form, as to them shall seem most likely to effect their Safety and Happiness."
More like this story