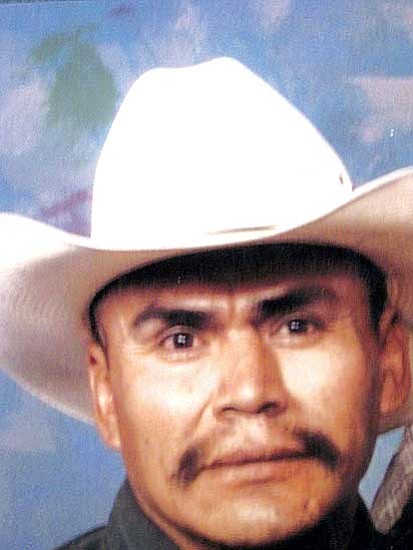 Originally Published: February 9, 2010 2:28 p.m.
Larry Yellowman, age 47, died in Tuba City on Tuesday, Jan. 19, 2010. He was born May 6, 1962 in Cedar Ridge. He is survived by his wife Laura Hanks, children Len Ford Scott, Haley and Bryanna Yellowman, step-daughter Ranae Hanks, his mother Esther Nakai, his father Harry Horseherder, his uncles, Bill, Jimmy and Sonny Nakai and many grandchildren from the Bodaway community.
It is said, the measure of a man is determined by how well he is remembered and loved by his family and friends. Larry Yellowman is such a man. He touched the lives of everyone who around him who knew him as a devoted father, friend and neighbor.
Larry was raised in the traditional Navajo way by his grandparents Anna and Scott Yellowman in a remote area near the North Rim of the Grand Canyon. Larry learned to tend sheep, goats, horses and cows.
As a boy, Larry ran every morning before the sun came up towards the sunrise. When it snowed, he washed himself with snow. He helped his neighbors and when they were in need, he hauled firewood, water, and took people's cows to auction.
Larry attended Tuba City Boarding School, Tuba City High School and ABC Welding School. He was an expert at structural and pipe welding. He traveled a lot as a welder and did overhauls on power plants. Larry had a great sense of humor and had many friends and co-workers.
He loved spending time playing with his children and grandchildren. He enjoyed cooking, sheep herding, telling stores, helping with homework, school activities, enjoyed Parent/Teacher conferences, walking or driving the children to school. Larry was well adapted to family life. When his grandmother passed on, Larry build a sheep corral near his home so he could continue caring for her livestock.
The love of Larry's life was his wife Laura. They met when Laura worked as a caretaker for Yazzie and Lee Red House and their sheep camps were close by for them to meet. He was a beloved husband, brother, father and grandfather.
He is preceded in death by Anna Yellowman and Scott Yellowman, grandparents, Huskie, Frank and Henry Nakai Dine'e.
Funeral services were held on Tuesday, Feb. 2, 2010 at Hidden Springs Church in Hidden Springs. Larry was laid to rest beside his grandmother overlooking the North Rim of the Grand Canyon. Condolence cards can be sent to Laura Hanks, P.O. Box 231, Cameron AZ 86020.
More like this story