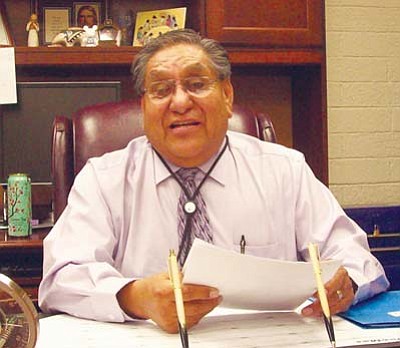 Originally Published: August 31, 2010 2:55 p.m.
KYKOTSMOVI, Ariz. - Hopi Tribal Chairman LeRoy Shingoitewa would like the Hopi people to know that he is busy getting the tribal government functioning as it should. One of the most urgent issues is the Snowbowl project where he will make a statement on the Hopi Tribe's position on snowmaking plans. He says he will make a statement on practitioner concerns and "by resolution of the tribe will make sure he stands up for Hopi beliefs of several people."
Regarding the CO2 issue, he says that it needs to come back to the Tribal Council for discussion. Since there has been a petition from the people, it needs more discussion. As for the Navajo position he has not been contacted formally by the Navajo Tribe regarding the recent resolution passed opposing the project. He is waiting for the correspondence from the tribe.
In regard to the continued Silent Majority group, he states that he still has not been approached by them for discussion. He previously stated he is open to discussion. He will be going to the communities soon to present the revised constitution, which the tribal members will be voting on in November.
Addressing concerns with his travels, the Chairman states that his travels are all strictly tribal related and that many federal, financial and government entities prefer the leader of the tribe to be present. He rarely goes outside of Arizona and prefers to meet in Phoenix so he can be closer to home. He also states he is always available to take care of tribal business. He makes sure he coordinates his schedule with Vice Chairman Honanie to make sure they are always available. He says he has gone to Washington, D.C. only twice since being elected.
As for Hopi Tribal Attorney, Mr. Robert Little, the Chairman stated that he is a member of the bar; maybe not in Arizona, but he is accredited. He will be a member of the Arizona Bar association soon.
Chairman Shingoitewa also stated that he may not please everyone, but the Hopi Tribe elected him and elders ask him to keep working for the people.