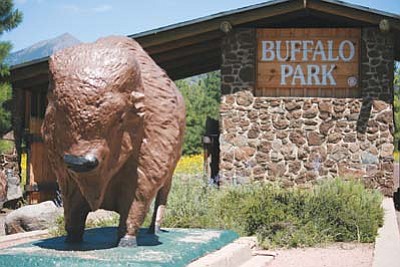 Originally Published: August 31, 2010 2:28 p.m.
FLAGSTAFF, Ariz. - Every great city has a well known park. New York City has Central Park, which has been filmed in an incredible amount of movies. Phoenix has the Maricopa County Park system, which is the largest in the U.S. and South Mountain is the biggest of those parks.
But not all cities are that big. Not all parks are that big, but that doesn't make them any less beautiful. Wilderness hiking can be more pleasurable then a park, but when one is pressed for time a good park can provide some quick exercise along with getting in touch with nature.
Buffalo Park provides that perfect fix, especially this time of year. Those looking to not get too far away from civilization can do the two mile Buffalo Park Urban Trail loop around the park. Those feeling more adventurous can walk straight into the park and down where there are less people, more wildflowers and trails in every direction.
Due to the rains and warmer weather the wildflowers are still abundant. Birds and wildlife, especially deer, are also plentiful.
During the two mile loop, there are plenty of exercise stops for those who want to stretch. Many people bring their dogs or their kids. Mountain bikers love the backtrails.
The parks greenery and the surrounding mountains make for perfect eye candy.
If the two mile loop is too much, the Utility Access Trail offers a one mile trek. Of course, walkers can turn around at any time. Both of these trails offer little elevation change. Those going straight through the park to the less traveled trail will have a bit of a hill for an elevation drop, but the trails are clear and easy.
At the back of the park is where hikers run into Oldham Trail No. 1, which many refer to as the gateway to the Mt. Elden Trail system as trails go off in many directions.
Buffalo Park is at an elevation of about 7,100 feet so it is a nice cool summer stop, but those coming up from the valley may find themselves catching their breath.