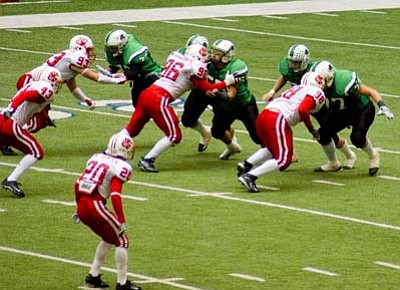 Originally Published: August 31, 2010 11:58 a.m.
The 3A North Region football teams played a full schedule of non-regional games on Friday and won four of seven contests and were surprisingly competitive in one of the three losses. Friday will see mostly non-regional games again with the exception of Tuba City at Winslow for the first regional game of the season.
In Friday's action Window Rock blasted Fort Wingate, N.M. 44-0 at home. The Scouts will take on Many Farms at home on Friday. Many Farms lost their opener to the Chinle Wildcats 44-0 in another victory for a 3A North Region team. The Wildcats defeated Many Farms at Many Farms and will play their first game at Chinle on Friday against the Hopi Bruins, 40-14 winners over the Tuba City Warriors in their opener at Polacca.
The Monument Valley Mustangs defeated Red Mesa 45-6 at Kayenta on Friday but face a tough non-regional opponent this Friday when they meet the 3A East Region Alchesay Falcons at White River. Alchesay lost to Tempe Prep though 47-14 at Tempe in their opener.
The Holbrook Roadrunners blasted the Greyhills Knights 56-6 at Tuba City on Friday but face an extremely tough challenge this Friday against the Snowflake Lobos of the mighty 3A East Region at Snowflake. The Lobos were slated to open on Saturday against the 5A Red Mountain junior varsity at Mesa. Results of that game were not available at press time.
The Winslow Bulldogs lost to 3A East Region contenders, the Round Valley Elks, 33-27 at Eagar on Friday. The Bulldogs were without their All State quarterback and cornerback Kraig Shirley who broke a collarbone in the controlled scrimmage at Show Low a week before the regular season began.  This game was not decided until the closing seconds and Winslow was much more competitive than most expected given the injury loss. Winslow will host Tuba City on Friday in the first 3A North Region contest of the season and has secured respect and inclusion in the field of legitimate title contenders with the strong showing against Round Valley.
Ganado was the other 3A North Region team to suffer a loss in their season opener, falling to Canyon State 21-8 at Ganado. The Hornets will be at home again on Friday to take on Red Mesa, 45-6 losers to Monument Valley in their opener.