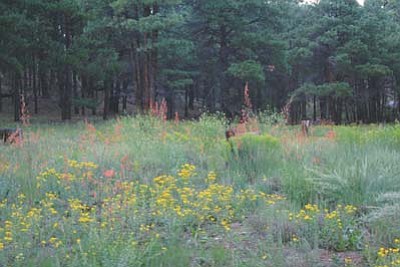 Originally Published: August 24, 2010 5:02 p.m.
FLAGSTAFF, Ariz. - Those who want to find a lot of colorful flowers in a short distance should head to Griffith Springs because about a dozen type of wildflowers are out right now. It would be a botanist's dream.
Yellow monkeyflower, purple thistle, yellow star flowers and firecracker penstemon are just some of the highlights.
If there's a better one to two-mile hike in Arizona, I wish somebody would tell me about it. Kinder Crossing near Blue Ridge Reservoir is another short hike that has a lot to offer, but we'll save that for another day.
This is one of the few places in Flagstaff where a running stream can be found year round. When everything else goes dry, Griffith Springs has water in the stream more often than not, although during times of drought it goes underground.
Flagstaff nature photographer Lisa Viotti loves this hike because of the colors, the water and the canyon walls. She also loves the hike because there is easy access from Highway 89A. She found the hike easy with few ups and downs. Not much altitude change here.
During the summer rains, the water gets high enough that children can be found swimming in the larger parts of the stream.
At a time when most flowers have started to fade, they remain abundant at Griffith Springs...so hurry down before they disappear. This is a place where everything from elk to hummingbirds to hawks can be found. Squirrels and ducks also come with this package.
This is a hike that can be enjoyed anytime of year although former Navajo-Hopi Observer correspondent Don Decker had a few interesting words for me when I took him there one year when the snow was a foot deep. It took five minutes to go every two steps.
Decker is right: Spring, summer and fall are the best times to get on this trail.
The trail offers a loop, but my preference is to drop down and follow the trail that goes along side of the stream. The closer to the stream the more likely you are to find wildlife, frogs and bugs - and flowers.
The elevation is about 6,800 feet so it will be cooler here than most other places in Arizona. The parking lot is paved and has a toilet. At a time when we want to keep the forest clean, one thing that appeared to be missing was any trash container, so if you cart it in, please take it out.