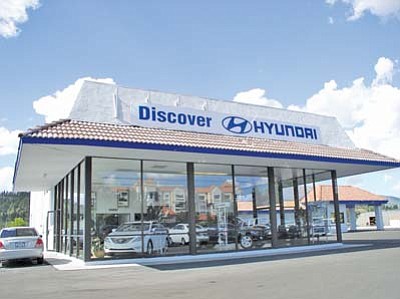 Originally Published: August 24, 2010 5:04 p.m.
FLAGSTAFF, Ariz. - A new car dealership is open now at the old Flagstaff Honda location on Route 66, across from the Radisson Hotel.
Discover Hyundai of Flagstaff, a family-owned business with locations in Scottsdale, and a combined 30 years experience was approached by Hyundai after Diamond Hyundai closed its doors last year.
Discover Hyundai of Flagstaff will sell new Hyundais and now service thousands of Hyundais under warranty in northern Arizona. Before, the closest Hyundai dealership was in Cottonwood.
General Manager Joe Palmisano is well aware of the importance of the tribal and rural customer base.
"The top three things we're about is customer service, customer service and customer service. Hyundai is a hot product because it sells a high quality car for far less than anyone else, and has the best warranty in America," said Palmisano.
The South Korean-based auto manufacturer has seen the demand for the Hyundai brand increase market share nationally, with June being the 18th month of consecutive year over year gains.
The new Discover Hyundai of Flagstaff dealership will also offer a large selection of pre-owned vehicles.
"With several other locations, we have a lot of inventory to choose from," Palmisano said. "Our parts and service department will service any make or model, as well as fill in the gap for Hyundai service in town," he added.
The company has hired key staff from Flagstaff, in all the dealership will employ 10 to 15 people, and give the city a much-needed boost in sales tax revenue, which is still down compared to a few years ago.
For more information, call Discover Hyundai of Flagstaff at (928) 774-3200 or visit www.discoverhyundaiflagstaff.com.