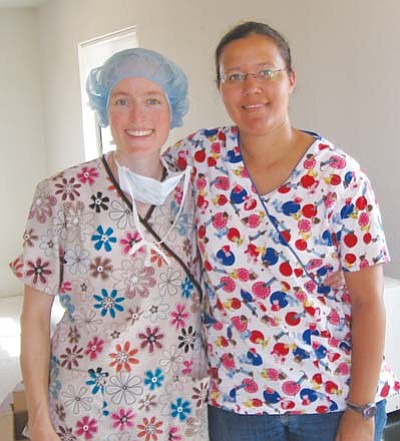 Originally Published: August 10, 2010 11:33 a.m.
TUBA CITY, Ariz, - Veterinarians from Raleigh, N.C. recently came to the Navajo reservation to vaccinate pets and provide treatment to livestock.
The Christian Veterinary Mission, sponsored by the North Carolina State University College of Veterinary Medicine, has been coming to the reservation for eight years. This is Dr. Paige Wages' eighth trip to the reservation.
This year two vets and six students made the trip. Dr. Wages is a private practitioner in North Carolina, but gives her time to this program each summer. She says they time their yearly visits with the Pioneer Day event held at Navajo Mountain, which was their next visit.
The crew has made stops in Crownpoint, N.M., Luepp, Tuba City and Navajo Mountain this year. Dr. Wages and fellow vet Dr. Scott Galphin take care of small domestic animals. Dr. Galphin was making house calls to care for livestock. According to vet student Sara Chavis, they can pretty much take care of any livestock and have brought a lot of books to refer to. This is her first year visiting the reservation.
She states, "I like the people and am enjoying myself very much."
The event was sponsored by the First Southern Baptist Church in Tuba City and is sponsored by different churches along their route.
After their trip they will drive back to Raleigh. For more information, visit www.cvmusa.org.