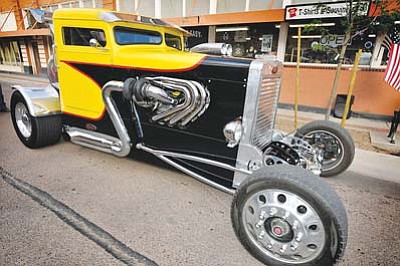 Originally Published: August 4, 2010 11:10 a.m.
Winslow resident Rodney Rucker brought out several unique vehicles to display on July 30 for "Winslow's Summer Nights" on Kinsley Avenue.
Among them was a motorized stagecoach, a 16-foot tall motorized shopping cart able to carry eight people and last, but not least was the Monster Car, a huge yellow coupe that fit no category at all.
Music was playing while tourists and residents hung out, gawking at the cool vehicles.
Rucker has been building unique vehicles for thirty years. His creations have been featured on Discovery Channel, History Channel, Weird Wheels and Monster Garage as well as German and Canadian television.