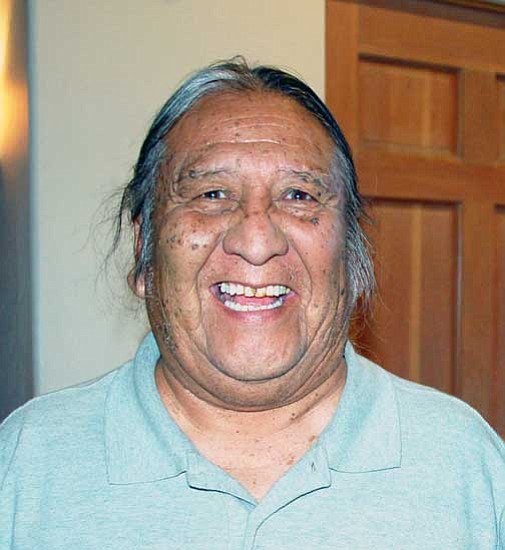 Originally Published: October 27, 2009 5:18 p.m.
FLAGSTAFF, Ariz. - Internationally renowned Hopi painter, lithographer, jeweler and poet Michael Lomawywesa Kabotie, born in the Village of Shungopavy in 1942, died at the Flagstaff Medical Center on Friday, Oct. 23 from complications associated with the H1N1 flu. He was 67.
Kabotie, from the Snow Clan, attended school on the Hopi Reservation and went onto Haskell Indian School in Kansas where he graduated in 1961.
Kabotie showed such artistic promise that he was recruited by the Southwest Indian Art Project at University of Arizona along with noted American Indian artists, Fritz Scholder and Helen Hardin as well as fellow Hopi artists Charles Loloma and Joe Herrera, who became Kabotie's lifelong friend and principal art and life mentor.
Surprisingly, painting and lithography was not Kabotie's initial academic interest - he was drawn to the world of engineering, but his art was so precise and mathematical in appearance that art patrons, museums and fine art collectors eventually persuaded him to not only paint but to draw and study metal plate and stone printmaking.
His earliest formal art attempts proved stunning and won him very early status as an important artist to watch.
Kabotie was selected for a prestigious one-man show at the Heard Museum very early on. It sold out and his art career took off. Kabotie also graced the cover of Arizona Highways magazine.
Fred Kabotie, Michael's father, is credited with the early development of the trademark, traditional Hopi overlay style jewelry. With this family art inspiration and Picasso-esque style of painting, both Michael and Fred are considered two of the innovators of what is called the "Native American Fine Arts Movement."
In 1973, Kabotie along with fellow artists Delbridge Honanie, Terrance Honventewa and Milland Lomakema formed the Artist Hopid, a group of fellow contemporary artistic visionaries, who took chances, utilizing contemporary ideas and thoughts into their work.
As a group Artist Hopid was acclaimed for their massive, but meticulous work, which pushed the edge of what was then considered "safe" Indian art, featuring non-controversial subject matter such as animals, day-to-day reservation life scenes and landscapes.
Artist Hopid would incorporate contemporary subject matter into their paintings, unafraid to make heavy social comment with paint on canvas or murals that showed the more outrageous social or political activity that was part of every Hopi living.
At the same time, their group would also collaborate on major art murals or projects that would reflect the deeply spiritual Hopi side of life and its cultural obligations using vivid colors or lightly applied metallic washes.
Kabotie was also noted in the art world as a poet, goldsmith, lithographer and practitioner of Jungian philosophy. Published in 1987, Kabotie's "Migration Tears" was an inward self-portrait in verse.
This early published work, showed Kabotie's interest in both Eastern philosophy and Swiss psychiatrist Carl Jung, who felt that the western world relied too much on science and logic to solve its problems and should incorporate the idea of "harmony and balance" into our lives, if we were to live productively, happily.
Kabotie was deeply intrigued by Jung and latched onto his ideas, seeing the parallel of Jungian and Hopi philosophy. He was inspired by the Swiss doctor to use his own Hopi dreams, religion and myth in his own art work. Kabotie's artistic inspiration benefitted from his integration of spirituality and appreciation of the unconscious.
In 2003, Lomawywesa was selected as an Arizona Living Treasure and in 2006 was awarded a fellowship from the National Museum of the American Indian's Smithsonian Research Program. He will be featured as the signature artist for the 52nd Heard Museum Guild Indian Fair and Market to be held March 6-7, 2010.
"Michael was a quiet man, with a deep respect for the traditions of his Hopi culture," Heard Museum Director Frank Goodyear Jr. said. "He made powerful images drawn from Hopi artistic traditions that are testimonies to his own creative excellence. His [passing] leaves us deeply saddened."
Indian Fair Chair John Miller stated, "I was saddened to hear about Michael's [passing] ... Michael will remain the featured artist for the Heard Museum Guild Indian Fair and Market, and we will honor him by dedicating the Fair in his memory."
Miller relates that the Kabotie family is pleased that the Heard will continue to honor his life and work.
Kabotie created a special painting that will grace the cover of the Fair program as well as T-shirts and posters. During the Fair, Kabotie's life and work will be honored for his contribution to American Indian fine art.
Shelby Tisdale, Director of the Museum of Indian Arts and Culture in Santa Fe, N.M. added, "Michael has been an active participant at Native Treasures and at Indian Market over the years and his warm smile, teasing, sense of humor and generosity will be missed by all of us. He was also an active member of the Hopi Wuwichim Society and gave so much to his Hopi community."
Former Hopi Tribal Chairman Benjamin Nuvamsa, also an artist, stated, "We are all very saddened to hear of Michael Kabotie's passing ... Michael was a true ambassador of our Hopi lifeways and like his father Fred Kabotie, he did this through his art form. He was a great visionary and cared for the perpetuation of our Hopi ways. Our prayers go out to the Kabotie and Lomayesva families."
Michael Lomawywesa Kabotie is survived by his older sister, Hattie Lomayesva; children Paul Kabotie, Wendell Sakiestewa, Claire Chavarria, Ed Kabotie, Meg Adakai and Max Kabotie; his art-life partner Ruth Ann Border; ex-wife Frances Kabotie; 14 grandchildren and one great-grandchild.