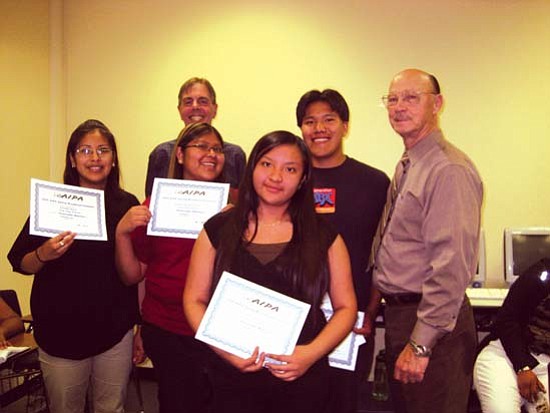 Originally Published: May 12, 2009 6:29 p.m.
POLACCA, Ariz. - Hopi High radio students Melsena Harris and Geraldine Numkena exemplify the pride of their classmates as they were among 10 Hopi High radio students who won 12 awards from the Arizona Interscholastic Press Association.
Harris, a junior, won an honorable mention at state in the public service announcement area for a piece about the fears of falling.
"I felt very proud of myself. I didn't think I was one of the top students in my radio class," she said.
Harris said the awards show that the radio class is improving.
"I think we learn more than any other schools," she said.
Hopi High produces the only live remote Native American teen talk show in the nation on Hopi community radio station 88.1 FM. Harris said the teen show is great because it tells listeners what the school is doing.
"I like everything we do in radio. I like to work with production and do live shows," she said.
Harris said the radio class has not only taught her listening skills, but how to use radio equipment.
Numkena, a sophomore, said she was happy that her classmates won so many awards. She said the Hopi High teen show is "cool," but she wishes they could do more.
Numkena, who also won an award in the public service announcement category, said she likes the radio class because she likes talking.
"It's a good interesting class and fun," she said.
Stan Bindell, radio teacher at Hopi High, said the awards are great for the kids and great for the program.
"I'm really proud of what these students have achieved. I hope the community commends them for their successes," he said.
Bindell pointed out that former Hopi High radio student Povi Lomayaoma is attending Ft. Lewis College on a scholarship and hopes more of his students will get scholarships this year.
Paul "Big Q" Quamahongnewa led the way with three awards including one for excellence. Faith Gonnie also won an award for excellence.
Eight other Hopi High radio students won honorable mention awards from AIPA.
The awards come on the heels of some of the radio students attending the National Federation of Community Broadcasters Conference in Oregon and the 10th annual Native American Journalism Career Conference in South Dakota.
Quamahongnewa, a senior, won an excellent rating for a sports story about the Hopi High boys cross country team winning state for a national record of 19 times. The Big Q also took honorable mention for a feature story about how a dog is used to preserve an endangered butterfly. He also won honorable mention for a sports story about the Hopi High cross country girls winning the state championship.
Quamahongnewa is considering several colleges, but will dual major in broadcasting and journalism with a minor in athletic training. He will also look for jobs with Native Voice1, PRX, Youth Radio, KBOO radio and Oregon Public Broadcasting. He already works part time for KUYI and serves as a KUYI Community Advisory Board member.
Gonnie, a senior, won an excellent for a newscast about Hopi High making adequate yearly progress.
Gonnie is considering attending Mesa Community College for general studies, but she hopes to take classes in journalism and radio.
The other Hopi High radio students winning awards were: Nicole Sockyma, honorable mention for commentary about graduation; Johnetta Honie, honorable mention for commercial about graduation preparations; Fawn Lomakema, honorable mention for newscast for Lomatawama named president of student council; Jaysana Honyaktewa, honorable mention for commentary about abortion causes problems; Darian Poleyestewa, honorable mention for feature about Harvard program; and Kamille "Kandy" Kane, honorable mention for commercial for powwow.
More like this story