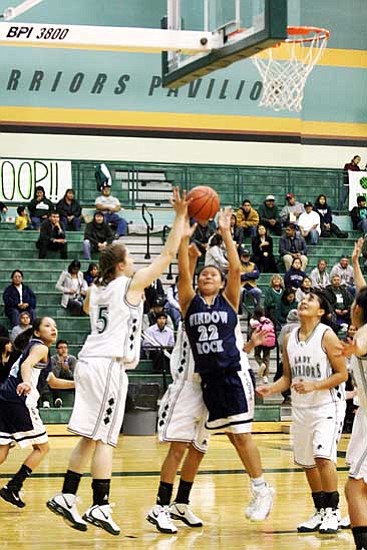 Originally Published: January 15, 2009 12:29 p.m.
The Tuba City High Lady Warriors played the Window Rock Lady Scouts on Tuesday, Jan. 6 in a 3A North Conference contest. At the start of the first quarter the Lady Scouts utilized a half-court trapping defense that flustered the Lady Warriors. Due to several turnovers from a number of defensive plays, the Lady Scouts led 15 - 8 at the end of first quarter. The Lady Scouts continued with the half court pressure into the second quarter. The Lady Warriors then made a comeback toward the end of the half and started scoring on some layups which resulted in them taking a one-point lead at the half 23 -22. The second half started with the Lady Scouts and Lady Warriors continuing to change baskets. In the middle of the third quarter the Lady Scouts started their half court trapping defense again, which resulted in a 35 -30 lead at the end of the third quarter. From the fourth quarter the Lady Scouts spread the floor and started cutting to the basket for easy layups which eventually resulted in them going away with a 49-41 conference win over the Lady Warriors.
The following day, the Lady Warriors went to battle against the Lady Yellow Jackets of Blue Ridge. As a result of their loss to Window Rock the previous night, the Lady Warriors came out fighting from the start and continued fighting throughout the whole game. By the end of the first quarter the score was 15-0 in favor of the Lady Warriors. With 7:40 on the clock in the second quarter the Lady Yellow Jackets finally scored. The score at halftime was 31-4. Most of the game the Lady Warriors played man-to-man defense. At the end of the third quarter the score was 43-9. Most of the players got to see some action. The final score was 56-24 in favor of the Lady Warriors.
More like this story