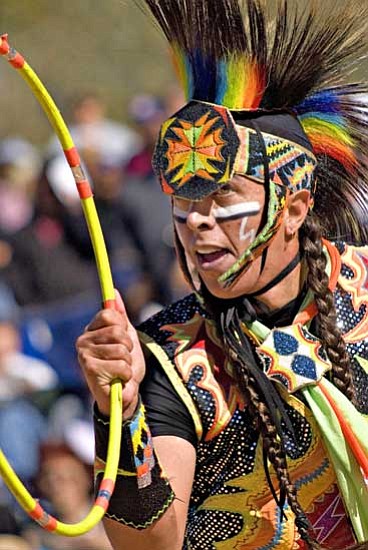 Originally Published: December 29, 2009 4:05 p.m.
PHOENIX, Ariz. - For the past 20 years, the Heard Museum has hosted one of Indian Country's top competitions. The Heard Museum World Championship Hoop Dance Contest combines artistry, sheer athleticism and cultural traditions to create a unique competition. You're invited to join in the 20th anniversary of a truly Native phenomenonthe amazing performances of the intertribal hoop dance.
Top American Indian and Canadian First Nation hoop dancers from the United States and Canada are preparing to compete for the prestigious title of world champion during the two-day event, to be held at Phoenix's Heard Museum on Saturday and Sunday, Feb. 13-14. The Jay Kahn Memorial Fund sponsors the youth competition prizes and the Arizona Commission on the Arts is a supporter of the contest.
First-time World Champion Brian Hammill, Ho Chunk, 40, of New River, Ariz., is expected to defend his title against some tough competition. He's likely to face 2008's World Champion Charles Denny, Chippewa/Cree/Ute, 20, from Fort Duchesne, Utah; Hammill and Denny have scored within three points of each other over the past two years.
Also, expect to see seasoned competitors and crowd favorites such as Derrick Suwaima Davis, Hopi/Choctaw, of Old Oraibi, Ariz.; Nakotah La Rance, Hopi/Tewa, from Flagstaff, Ariz.; Alex Wells, Lil Wat First Nation, of Morley, Alberta; and Lowery Begay, Diné, from Jonesborough, Tenn.
Winners will take home their share of more than $30,000 in prize money. Hoop dance fans from across the U.S., Canada and Europe are already making plans to cheer their favorite dancesr on to glory.
Other categories of competition include Tiny Tot (under 5 years), Youth (5 to 12), Teen (13 to 17) and Senior (40 and older).
For many years, the intertribal hoop dance has expanded to incorporate new and creative designs and extremely intricate footwork. Each dancer presents a unique variation of the intertribal hoop dance, weaving in aspects of his or her distinct tradition and culture. Individual routines are presented using as few as four to as many as 50 hoops, which are manipulated to create a variety of designs including animals, butterflies and globes. Dancers are judged on a slate of five skills - precision, timing/rhythm, showmanship, creativeness and speed. In recent years, younger competitors such as La Rance, who's also an up-and-coming actor, are incorporating modern dance steps like hip-hop into their routines.
The cost is $10 general admission, $9 seniors (65+), $7 American Indians, $3 children 4-12, free for children under 4. Cost is per day and includes the event and museum admission.
For more information, call (602) 252-8848 or visit www.heard.org/hoop.
Also, it's easier to get to the Heard and to our events via light rail. Look for the Heard Museum parking signs along Central Avenue, take the light rail to the Encanto Station and avoid having to locate a parking spot. Or use Park and Ride lots all along the Light Rail route.