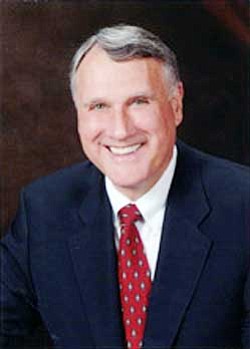 Originally Published: August 18, 2009 1:53 p.m.
In 1990, while I was a member of the U.S. House of Representatives, I worked with now retired Colorado Senator Ben Nighthorse Campbell to pass the Indian Arts and Crafts Act, which prohibits misrepresentation in the marketing of Indian arts and crafts within the United States.
The Indian Arts and Crafts Act is a truth-in-advertising law that provides criminal and civil penalties for marketing products as "Indian-made" when such products are not, in fact, made by Native Americans.  The law is intended to protect unsuspecting buyers from fraudulent works, as well as Indian artisans, crafts-people, and tribes.
The counterfeiting occurs with Indian-style jewelry, pottery, baskets, carved stone fetishes, woven rugs, kachina dolls, clothing, and other items.  Counterfeit products not only diminish the cultural value of Native American heritages, but millions of dollars are diverted each year from original artists and Indian tribes to those who illegally reproduce and sell counterfeit Indian goods.
In order to make the law more effective, Senator John McCain and I introduced legislation to strengthen its investigative and enforcement authorities.  I am pleased to report that the U.S. Senate approved that bill on July 24, and it now awaits action in the U.S. House of Representatives. By working with the House cosponsor, Representative Ed Pastor, it is my hope the bill will be signed into law during this session of Congress.
The U.S. Senate has also advanced a bill I introduced that would resolve major water claims in the state and provide a reliable source of drinking water to the White Mountain Apache Tribe.
The White Mountain Apache Tribe Water Rights Quantification Act would authorize and confirm the tribe's water settlement and authorize funding for a key drinking water project, the Miner Flat Project, on the tribe's reservation in northeastern Arizona.
Currently, a relatively small well field serves most of the tribe's residents, but production from the wells has declined significantly over the last few years. As a result, the tribe has experienced summer drinking water shortages.
Under the settlement, the tribe's water claims are resolved by allocating to it a total annual water right of 99,000 acre-feet per year through a combination of both surface water and Central Arizona Project water.
Without a settlement, resolution of the tribe's claims would take many years, entail great expense, prolong uncertainty concerning the availability of water supplies in the Phoenix metropolitan area, and seriously impair the long-term economic well-being of all parties to the settlement.
Arizona has a history of successfully resolving its Indian water claims.  I am pleased to report that the U.S. Senate Indian Affairs Committee recently held a hearing on the bill and received the testimony of White Mountain Apache Tribal Chairman Ronnie Lupe.  The Indian Affairs Committee Chairman, Senator Byron Dorgan, has also assured me that the panel will consider and vote on the bill in September when Congress returns to Washington.
I am pleased that both the arts and crafts legislation and the White Mountain Apache measure are making their way through the legislative process.  These are good bills that will help many Arizonans, and I'm hopeful that I will soon be able to report that the President has signed them into law.
(Sen. Jon Kyl is the Senate Republican Whip and serves on the Senate Finance and Judiciary committees. Visit his Web site at www.kyl.senate.gov or his YouTube channel at www.youtube.com/senjonkyl.)