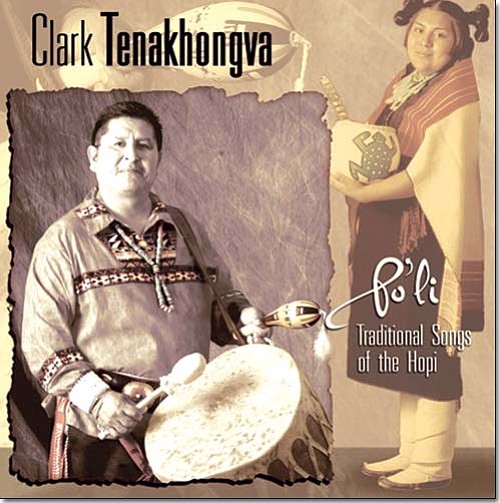 Originally Published: September 16, 2008 2:46 p.m.
HOTEVILLA, Ariz. - Clark Tenakhongva is what's known as a "20th Century Native Rennaissance Man."
An accomplished wood artist winning many top awards in traditional Hopi carving, Tenakhongva also paints in watercolors, is a lifetime Hopi cattle rancher, works full-time as a veteran's outreach counselor and since it seems that he never sleeps, he also writes original Hopi songs in his spare time that are gaining him recognition in the Native music world as the best of traditional original recordings.
Tenakhonga's latest CD entitled "Poli," his third released from Canyon Records, is nominated for this year's Native American Music awards (NAMMY) in the category of Best Original Traditional Music.
Released in 2007, "Poli" contains songs that are all original compositions by Tenakhongva and are centered around social butterfly dance songs, but the album also contains a couple of specially composed songs that are dedicated to American veterans and family.
"Prayers" is a song dedicated to Tenakhongva's nephew, Cheston Dalangyawma who is currently serving in the Marines in the Iraqi conflict, but the song in itself is a thoughtful, musical prayer for a safe return for all American veterans serving in foreign wars.
Part of the fun of creating this CD, says Tenakhongva, is being able to create these individual tributes to not only individuals but also about other tribes who are visitors to the Hopi Reservation. There are several songs on his album that are about the Navajo tribe and culture which honors them in this social dance way.
It took him about a year and a half to complete "Poli" because it's a four and a half hour drive from the Hopi Reservation to the Canyon Records' studios in Phoenix, and once Tenakhongva had the basics down, there was mixing and editing and final copy to be completed.
Asking Tenkahongva what the most difficult part of recording was, he said, "It really takes a lot of patience, the flavor of the vocals and the heart of the singing as a solo vocalist is really something you want to be careful with and pay close attention to. You must listen to your own voice in how it resonates, and how it is coming across to the listener."
"My daughter, Simana, is especially helpful in this, because she works directly with me and is my background singer on many of the songs, so she can be critical but in a good way. She is able to tell me if I need to soften or strengthen the delivery," he added.
Tenakhongva's biggest singing inspirations are his father, the late Samuel Tenakhongva and the late Sidney Namingha Jr., one of the most recognized singers at Hopi.
Namingha was long recognized by many Hopis and Tewas as one of the most clever, original Hopi songwriter-singers as Namingha inspired countless others to create their own songs.
Tenakhongva says he started singing early, he can clearly remember being about six-years-old and being part of a butterfly dance group that traveled from Hotevilla to Polacca Village at First Mesa to dance and sing.
He says with a chuckle, "I can remember us loading up in the trucks with all the girls and boys, the dance outfits, the drum and it was my first real visit to Polacca, which was a long way at that time from our home at Third Mesa. Now I married someone from there, so maybe my wife put a love spell on me from way back then."
Tenakhongva is looking forward to creating a fourth album in the next year. But this will be unlike the others in that he would like to include his new grandson - his first grandchild - on his new recording.
Even though his grandson was only born this summer, Tenakhongva is hoping that he will understand and fully speak the Hopi language to be able to understand the messages in the songs and understand what he is really singing about.
"It's important that Native traditional songs be heard for their real message value, not just for entertainment. Each song - and I am sure this is true for all tribes, just like with Hopi - [has] messages and significance; they are like prayers."
Does Tenakhongva see "creative collaboration" in his recording future?
"Oh yes, I would really like to work with Anthony Wakeman. He is a flute player from Sioux Country in North Dakota. I really admire his work and I think my songs and his flute playing could be something beautiful."
Tenakhongva, when he isn't ranching, doing veteran's work or carving, has also been making special personal appearances. He was last seen performing at the Navajo Nation Fair in Window Rock and will be appearing at the "Globo-querque" in Albuquerque, N.M. at the end of September.
"Poli" has been nominated not just this year for the NAMMY award, but also was nominated as best traditional native CD at the "Summer Indian Music Awards" in Milwaukee as well.
Hopi's own radio station, KUYI, held a contest and Tenakhongva won a local "listener's choice" award for both Best Male Vocalist and Best Native Traditional from his own tribal members.
To vote for Tenakhongva in the NAMMY awards this year, go online to native.vote.com before Oct. 4. Tenakhongva is listed in the Best Traditional Music Album category.
To purchase Tenakhongva's work, either go online to the Canyon Records Web site or iTunes. His work can also be purchased at Tsakursovi Art store at Second Mesa, Drumbeat Indian Arts in Phoenix, at the Museum of Indian Arts and Culture in Santa Fe, N.M. or from Tenakhongva himself.
More like this story