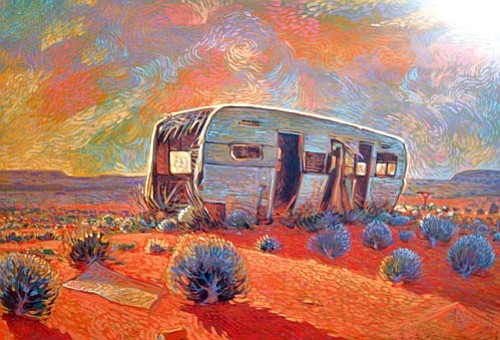 Originally Published: September 2, 2008 10:53 a.m.
FLAGSTAFF, Ariz. - Shonto Begay's "Reclaimed by Snakeweeds IV" acrylic on canvas painting took first place in the Painting category at the 2008 Santa Fe Indian Market juried competition, sponsored by the Southwestern Association for Indian Arts (SWAIA).
"I have revisited this old trailer, an old shell of aluminum that once held warmth, once held stories and someone's refuge," Shonto says. "It demands a presence among the snakeweeds that have reclaimed it."
In addition, Shonto Begay and Brandy's Restaurant and Bakery also plan to celebrate Shonto's 10th year of showing his artwork at the iconic Flagstaff eatery. The 10th Shonto Art Show at Brandy's is scheduled through Oct. 16, with a special free Shonto slideshow retrospective and discussion starting at 6 p.m., Monday, Oct. 6, at Brandy's, 1500 E. Cedar Ave in Flagstaff.
Tony Begay, Shonto's brother, also will be showing his reservation-life paintings during this anniversary exhibit. Enei Begay's fashions also will be featured.
"Brandy's is an important venue for me to keep in touch with my community," Shonto says. "These shows are a marriage of community and art and serve as a gauge of my artistic growth."
Tony Begay's works are inspired by his travels and his sacred land.
"Everywhere you look where I live you see memories of the past stirring the present," Tony says.
Tony has won numerous awards for his multi-faceted traditional paintings. His work is on permanent display at the Tuba City Hospital.