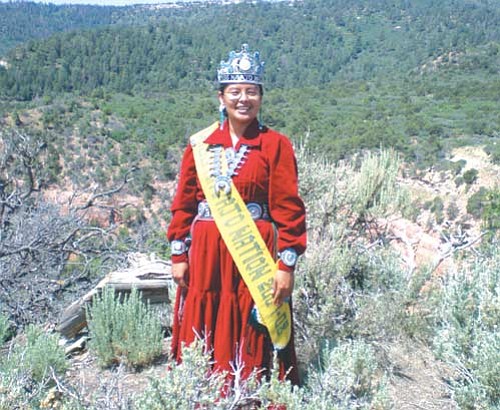 Originally Published: September 2, 2008 3:19 p.m.
Ya'at'eeh, My name is Jonathea D. Tso from Cove, Ari. I am 26 years old. I am of the Kinlichii'nii (Red House Clan) and born for the Todich'ii'nii (Bitter Water Clan). My maternal grandfather's clan is Tachii'nii (Red Running Into the Water Clan) and my paternal grandfather's clan is Nat'oh dine'e Tachii'nii(Tabacco People Red Running Into the Water Clan).
My parents are Irene and Jonathan Tso. They currently reside in Kayenta, Ariz. My maternal grandparents are Mae and Lee John of Cove, Ariz. My paternal grandparents are Fred and Francis of Black Mesa, Ariz.
I have five younger sisters of which I am the eldest. Prior to being Miss Navajo Nation I was pursuing my Navajo Language and Dine Studies degree at Dine College.
I graduated from Dartmouth College in 2004 with a dual major in Native American Studies and Environmental Studies. This is who I am as a Navajo woman.
My dreams leading up to being Miss Navajo Nation: I used to make my own crown out of baling wire. My grandma, Mae John, raised me in Cove, Ariz. We herd sheep together a lot. I remember getting off the Cove Day School bus, throwing my bag by the Hogan then running to meet my grandma herding sheep. We were always at the sheep camp with no electricity - I had to find ways to entertain myself.
I would pretend to be a princess and make my own gowns out of black plastic garbage bags. Then I would make my own crown out of hay baling wire and talk to my imaginary audience. The audience became the whole Navajo Nation.
During my reign, I was able to share our elders' teaching on the 'Adeestsíín (Stir Sticks). The 'adeestsiin is a woman's weapon. It is the representation of Pleiades (a seven star constellation). The largest and brightest star represents the mother. The six smaller stars are her three girls and three boys. Our elders teach us that laziness, poverty, and all negativities are afraid of 'adeestsíín. The 'adeestsíín is a spiritual weapon. All aspects of our Dine' way of life are prayer and protection from negativity.  
It is important to learn our Diné language and teachings because we are the leaders of our Great Navajo Nation today. Our protection in life will be these teachings and words of encouragement our relatives have shared with us. We must listen to our parents speak. This knowledge is power to be free from negativities that can hinder living a successful life. I encourage us all to live without talking back to our parents, without drugs, without alcohol, without meth, and without domestic violence because we are a wonderful, beautiful, special, and magical human being. We are Diné.
It has been an honor to represent our Great Navajo Nation. Thank you Lord Almighty. And Ahehee' Nitsagoo' to all that have contributed during my reign especially my family.